a review of Nick Cave's '20,000 Days On Earth,' which is receiving a wide release
a still from 20,000 Days On Earth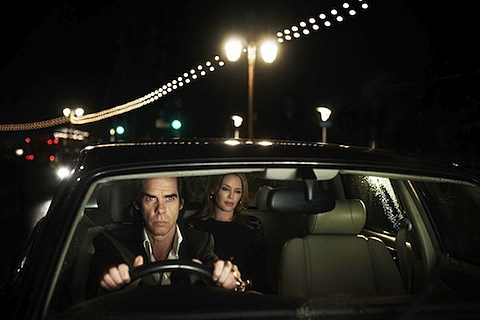 It's been an excellent year for music documentaries. Slint's Breadcrumb Trail, Grant Hart's Every Everything, and many others screened at CIMM Fest 2014 earlier this month. Joining this recent music documentary resurgence is 20,000 Days On Earth, the Nick Cave documentary that's been making the festival circuit the past few months, and out of all the music docs I've seen this year it happens to be my favorite.
What sets 20,000 Days... apart from most documentaries is that it doesn't follow the usual linear and chronological narrative; it instead it opts to jump around -- quite often -- blurring the lines between fiction and reality. In the film, Cave himself says that writing and creating stories is about throwing together two of the most unlikely things, and seeing what happens. That train of thought forms the basis of his songwriting technique, as well as the entire film's concept. It contains scenes in which Cave has conversations in his car with friends, friends who disappear as abruptly as they appear, leaving him driving quietly alone. Were these conversations scripted within Cave's mind, or were they real? Scenes like this are scattered throughout the film and kept me constantly intrigued.
The film is meant to offer a kind of "a day in the life of Nick Cave," the 20,000th day marking Cave's 54th year of existence. There have of course been films done with this "life in a day" concept but the level of intimacy on display in 20,000 Days... is unparalleled. From frantically tapping away on his typewriter at home, to recording Push the Sky Away in the studio, viewers are given an intimate front row view of a man and his creative process.
Also shown are glimpses of his personal life. In one segment, viewers are treated to an appointment with Cave's therapist, during which he discusses his childhood, father, and early musical career. In another, we see Cave sitting with his two sons, watching Scarface. And my favorite, Cave getting into his car, gunning the engine, and Kylie Minogue's "Can't Get You Out of My Head" blaring through the speakers.
Warren Ellis, Cave's friend, fellow band member, and frequent collaborator is also featured prominently in the film, and you get to see the two reminisce about their musical careers in some wonderful scenes. Cave's hilarious, sardonic sense of humor is also on full display throughout the film but I won't spoil it; just know that it's there and it's gold.
Another excellent thing that the film does is show the influence that Brighton, UK, Cave's coastal English town of residence, has on the man and his art. The scenes of the seaside town juxtaposed with Cave's narration makes it come alive in an almost supernatural way. By the film's end, you feel like the town is as much of a character as Cave is.
By doing away with the usual narrative and combining fiction and nonfiction, alongside some fantastic editing and cinematography, lauded directors Iain Forsyth, Jane Pollard, and Cave have created one of the most unique and original music docs. in recent memory. Part biography (or autobiography, whichever you choose to believe) and part ode to the creative spirit, 20,000 Days... is a remarkable film that no music fan should miss out on.
If you missed the film at recent festivals, Drafthouse Films just recently secured its North American distribution rights. Expect a release in early fall. Check out a trailer for 20,000 Days On Earth below...

20,000 Days On Earth (Official Clip)