Abigail Washburn on tour, played Lincoln Center (pics), playing Martyrs' (part of World Music Fest Chicago)
unknown
Abigail Washburn in NYC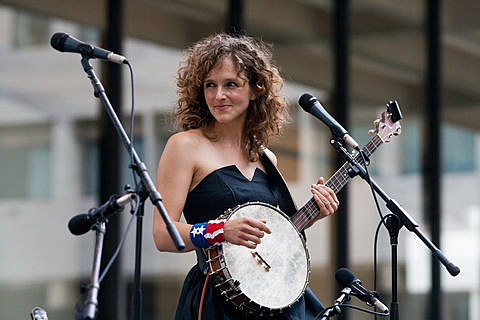 Her most recent album, City of Refuge, co-written with Kai Welch, includes a number of guests artists including Carl Broemel of My Morning Jacket and Chris Funk of the Decemberists....

Over the last several years, Washburn has made a name for herself playing banjo in the clawhammer style, as a string-band aficionado, and as a songwriter and curator with a unique and striking voice. In addition to her 2005 solo release, Song of the Traveling Daughter, her previous projects include work with the all-female string band Uncle Earl and a more recent project with masters Bela Fleck (to whom Washburn is married), Ben Solee and Casey Driessen called The Sparrow Quartet. Perhaps most distinct of all, however, is Washburn's use of Chinese folk imagery and instrumentation. She was an East Asian studies major and spent time living and working in China before nearly taking a position at a law school in Beijing. [American Songwriter]
Abigail is now on tour and comes to Martyrs' in Chicago as part of the World Music Festival on September 20th with Mar Caribe and Alana Amran.
All dates, more pictures of the Lincoln Center show and a video of Abigail playing an acoustic version of Amazing Grace with Mumford and Sons, below...


Abigail Washburn -- 2011 Tour Dates
September 6 The Center for The Arts Jackson, WY
September 7 7:00 PM ETown: Boulder Theater Boulder, CO
September 10-11 Wheatland Music Festival Remus, MI
September 15 Levitt Shell at Overton Park Memphis, TN
September 16-18 Austin City Limits Austin, TX
September 20 World Music Festival: Chicago - Martyrs' Chicago, IL
September 23 10:30pm Lotus Festival Bloomington, IN
Sept 30 - October 2 Hardly Strictly Bluegrass Festival San Francisco, CA
October 4 8:00 pm Freight & Salvage Coffeehouse Berkeley, CA
October 6 8:00 PM SOhO Restaurant and Music Club Santa Barbara, CA
October 7 8:00 PM UCSD - The Loft La Jolla, CA
October 8 8:00 PM McCabe's Guitar Shop Santa Monica, CA
October 9 Joshua Tree Roots Music Festival Joshua Tree, CA
October 20-23 Lake Eaden Arts Festival Black Mountain, NC
February 11, 2012 KCD Theater Louisville, KY ON SALE DEC 9
April 13, 2012 The Studio Theater Carmel, IN
April 17, 2012 Merrimack Hall Huntsville, AL