Alex G & Teen Suicide played Beat Kitchen (pics, review)
words and photos by Zack Baker
Alex G

Even after three changes to the show's kick-off time, Spencer and his newly-formed full band setup ended up going on 30 minutes before the show's advertised 6 PM start time. Any fans hoping to catch the endearingly oddball songwriter were sorely out of luck if they weren't bustling through the doors as they opened. I missed his set, and unfortunately LVL UP's too, but those who did see it seemed to be buzzing about it throughout the night.
Luckily I did make it in time for Teen Suicide. Flippant attitude from their online presence in full force, vocalist/guitarist Sam Ray and guitarist John Toohey were quick to pop out of the high-octane songs right into banter about parents' flights getting sent back because of the snow, the virtues of weed (Sam hollered "Give it up for weed!" intermittently throughout the set) and disparaging remarks to their new boss, Run For Cover head honcho Jeff Cassaza who flew into town for the show.
Teen Suicide had drummer Dexter Loos on loan from Alex G, and were in full-on rockstar mode for their set. Between the constant spins across the stage, monitor mounting and back-to-back shredding it was kind of difficult to remember that their songs are kind of, well, overwhelmingly depressing. The band played songs spanning their discography and also busted out a few new songs including one called "God" and one called "Alex," both of which were a little more mellow than the band's usual fare.
Alex G's set was slightly more tame, but no less entertaining. Alex had apparently discovered and become fascinated with a band who's name I didn't catch but whose catch phrase was evidently, "KABLAM! THEY NUKED MY NIPPLES OFF!" The singer would go into fits between songs, exclaiming it and immediately spiraling into a fit of laughter before launching into his next track.
Where the crowd was content to bob their heads for Teen Suicide, they went absolutely nuts for Alex's jams and antics. The room was a huge, sweaty, human wavepool by the end of his set, topped off with a ceremonially tossed bra which Alex proceeded to pull on and sport for the last two songs of the set. I never really knew I wanted to see Alex G perform DSU's downtrodden "Hollow" and Trick's house-of-cards-fragile "Change" in a hot pink brassiere, but I'm glad I did.
Check out more pictures from Teen Suicide and Alex G's sets as well as Alex G's setlist below...

---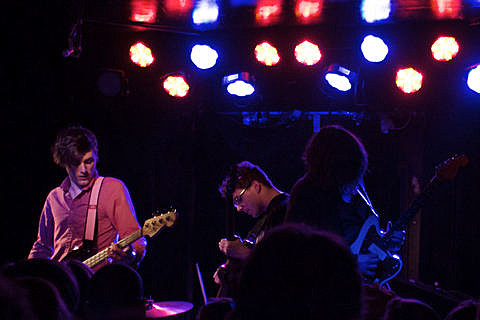 Alex G Setlist -- Beat Kitchen 1/31/15
Memory
Harvey
Forever
Mary
Icehead
Black Hair
???Soaker???
Animals
Boy
After Ur Gone
Rules
People
Sorry
Adam
Mis
Hollow
Change