Baths & Young Fathers playing Concord Music Hall on spring North American tour (dates, song streams)
Timothy S. Griffin
Baths @ Fun Fun Fun Fest 2011 (more by Tim Griffin)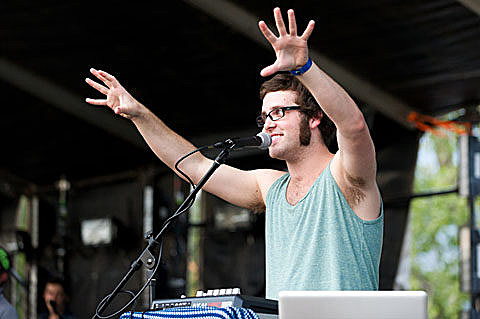 Anticon labelmates Baths and Scottish experimental hip-hip trio Young Fathers will be embarking on a spring North American tour together. The six-week run includes a performance at Concord Music Hall on May 9, and tickets for the Chicago show go on sale this Friday (1/24) at noon CST.
Young Fathers are slated to welcome their debut LP, Dead, on February 4 via Anticon. So far, they've shared the TV On The Radio-like pop tune "Get Up" and dark atmospheric single "War," and you can take a listen to both tracks at the bottom of this post. Death follows a pair of self-produced EPs--Tape One (2011) and Tape Two (2013).
All Baths // Young Fathers dates and a handful of song streams lie after the jump...

Baths: NPR Music Tiny Desk Concert

Baths -- 2014 Tour Dates
02/07 Los Angeles, CA - Natural History Museum
02/15 Tlaltizapan, Mexico - Parque Natural Las Estacas
03/14 Wellington, New Zealand - Bodega
03/15 Auckland, New Zealand - The Kings Arms
03/16 Adelaide, Australia - Rocket Bar
03/20 Brisbane, Australia - Alhambra Lounge
03/21 Sydney, Australia - Oxford Art Factory
03/22 Melbourne, Australia - Corner Hotel
03/23 Perth, Perth - The Bakery
03/26 Honolulu, HI - The Republik
03/28 Fresno, CA - Strummers
03/29 Pomona, CA - The Glass House
04/03 Santa Cruz, CA - The Catalyst Atrium
04/04 San Luis Obispo, CA - SLO Brew
04/05 Santa Barbara, CA - Velvet Jones
04/11 Phoenix, AZ - The Crescent Ballroom *
04/12 Flagstaff, AZ - Green Room *
04/14 El Paso, TX - The Lowbrow Palace *
04/16 Dallas, TX - Club Dada *
04/17 Austin, TX - The Mohawk *
04/18 Houston, TX - Fitzgerald's *
04/19 Baton Rouge, LA - Spanish Moon *
04/22 Washington, DC - U Street Music Hall *
04/23 Philadelphia, PA - Union Transfer *
04/24 Hamden, CT - The Space *
04/25 New York, NY - The Bowery Ballroom *
04/27 Portland, ME - Port City Music Hall *
04/30 Hanover, NH - Bones Gate Fraternity *
05/01 Montreal, OC - S.A.T *
05/02 Ottawa, ON - Ritual *
05/03 Toronto, ON - Horseshoe Tavern *
05/04 Detroit, MI - Magic Stick *
05/05 Grand Rapids, MI - Pyramid Scheme *
05/08 Indianapolis, IN - The Vogue *
05/09 Chicago, IL - Concord Music Hall *
05/10 Minneapolis, MN - Triple Rock Social Club *
05/11 Fargo, ND - The Aquarium *
05/13 Edmonton, AB - The Starlite *
05/14 Calgary, AB - Commonwealth Bar & Stage *
05/15 Vancouver, BC - Fortune Sound Club *
05/16 Seattle, WA - Neumo's Crystal Ball *
05/17 Portland, OR -Rotture *
05/18 Eugene, OR - WOW Hall *
05/21 San Francisco, CA - The Independent *
05/22 Visalia, CA - Cellar Door *
05/24 San Diego, CA - Casbah *