Beck played Detroit's Fox Theatre (pics, setlist, video)
Jared Heck
photos by James Richards IV
Beck at the Fox Theatre on 06.28.2014

Beck brought his summer North American tour in support of Morning Phase through Detroit this past weekend for a performance at the Fox Theatre on Saturday night (6/28). Sean Lennon's Ghost of a Saber Tooth Tiger were originally slated to open the show but didn't make it due to Canadian border crossing issues, so Beck and his band split their headlining performance into two parts: a 10-song acoustic set, followed by a lengthy electric portion. The acoustic set was no easygoing affair either, featuring tunes from Morning Phase and 2002's Sea Change. The electric portion was heavy on Guero and Midnite Vultures, but also contained songs from Modern Guilt, Odelay, and Mellow Gold. Pictures, some video footage, and the complete setlist from the Fox Theatre show are in this post.
Unfortunately, a concertgoer is in critical condition after falling 30+ feet over a stair railing at the Fox. He was found to be highly intoxicated.
Beck and co. will tag Chicago next month for a headlining performance at the 2014 Pitchfork Music Festival on Friday, July 18.
More pictures, that video footage, and the full setlist from the Fox lie after the jump...

--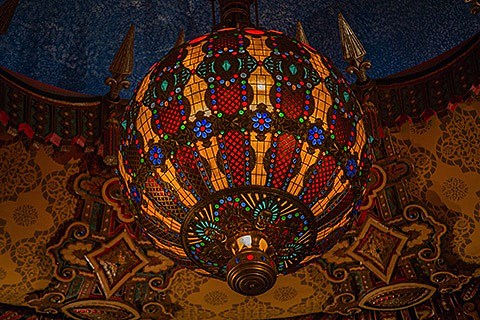 Beck
Beck -- 6/28 Fox Theatre Setlist:
Set 1 (acoustic):
The Golden Age
Blackbird Chain
Lost Cause
Say Goodbye
Dead Melodies
Country Down
Heart Is a Drum
Wave
Waking Light
Blue Moon
Set 2 (electric):
Devil's Haircut
Black Tambourine
Soul of a Man
The New Pollution
Qué Onda Güero
Hell Yes
Get Real Paid
Modern Guilt
I Think I'm in Love / I Feel Love
(Donna Summer cover)
Soldier Jane
Girl
Loser
E-Pro
••••••••••••••
Sexx Laws
Debra
Where It's At > One Foot In The Grave > Where It's At