Behemoth, The Devil's Blood & In Solitude played Bottom Lounge w/ Wolvhammer (pics); Watain touring, add Illinois show (dates)
Behemoth

Let's not dance around it, Watain dropping off of the first few dates of the Decibel tour was a bummer. But never the type to take defeat lightly, the Swedish black metal horde have added a new set of dates to try and make up the cancelled ones, including a stop at Mojoe's in Joliet, IL on May 16th with Black Anvil. Tickets are on sale. All dates are below.
Thankfully, Chicago's own Wolvhammer was able to pick up the slack as support for the remainder of the lineup at Bottom Lounge on 4/13, along with Behemoth, In Solitude, and The Devil's Blood . More pictures from the show are below.
According to Carmelo, one of the highlights of the evening cam from Nergal of Behemoth's declaration that "It feels good to be alive!", a sentiment in reaction to his conquering of leukemia. It feels good to have you back Nergal.
The Devil's Blood was direct support for the evening, providing a "mind-blowingly heavy" set, with In Solitude playing directly before them (members of the shadowy Repugnant were clearly identified). Wolvhammer's set was primarily based on material from last year's The Obsidian Plains.
Pictures from Bottom Lounge are below, along with all tour dates.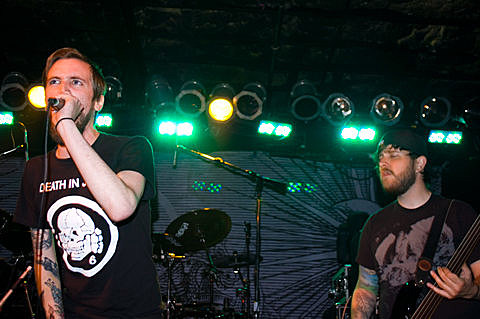 BEHEMOTH, WATAIN, THE DEVIL's BLOOD, IN SOLITUDE - 2012 TOUR DATES
5/01/2012 Orpheum - Tampa, FL
5/02/2012 Masquerade - Atlanta, GA
5/03/2012 Valarium - Knoxville, TN *
5/04/2012 Amos Southend - Charlotte, NC
5/05/2012 Ram's Head - Baltimore, MD
5/06/2012 Trocadero Theatre - Philadelphia, PA
5/07/2012 Club Infinity - Buffalo, NY *
5/08/2012 Opera House - Toronto, ON
5/09/2012 Club Soda - Montreal, QC
5/10/2012 Imperial - Quebec City, QC
5/11/2012 Palladium - Worcester, MA
5/12/2012 Irving Plaza - New York, NY
5/14/2012 The Loft - Poughkeepsie, NY*
5/15/2012 Peabody's - Cleveland, OH*
5/16/2012 Mojoe's - Joliet, IL*
5/17/2012 Al Rosa Villa - Columbus, OH*
5/18/2012 Harpo's -Detroit, MI*
* WATAIN Only