Blood Diamonds played Schubas with Midnight Magic & Duke Shin (pics)
Blood Diamonds at Schubas on 11.24.2012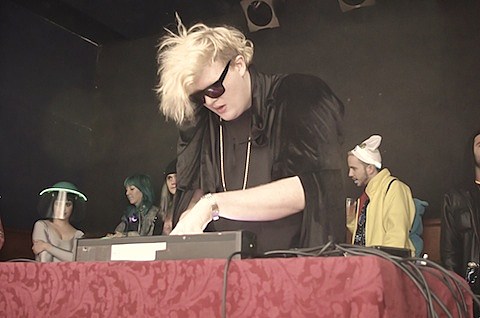 Blood Diamonds (aka Michael Diamond aka Mike Tucker) played Schubas on Saturday night (11/24), accompanied by openers Duke Shin and Midnight Magic. Mike took the stage for his headlining set wearing a hooded robe, which made him look a bit like a wizard. He was joined by Internet micro-celebrity Molly Soda and friends who served as backup dancers. The venue turned into a mini rave with people dancing, lost in the dreamy, ethereal, musical haze. Before the show I noticed a net of balloons hanging from the ceiling, which were released after some struggle onto the dancing crowd. With the balloons down, the crowd went from rave mode to beach-ball mode; everyone was trying to take a swing at a balloon. One girl accidently smacked me, mistaking my head for a balloon in the dark. The dancers on stage then fired confetti canons and topped that off by shaking a bottle of champaign and spraying the crowd.
Soaked in champaign, I caught up with Mike after his set, who said most of the new material he performed last night was produced in the last month. He's also been working on an iPhone game in his free time and showed me some of the 2D pixel sprites he had finished. As for a follow-up to his 4AD "Phone Sex" EP, there isn't a set release date but he assured me that he's working on it.
More pictures from the 11/24 show at Schubas continue below...

----
Duke Shin
Midnight Magic
Blood Diamonds