Bondax beginning North American tour at The Mid
Young UK production twosome Bondax just recently dropped their first single of 2013. It's a strong, glitchy track called "Gold" which features guest vocals from Joe Janiak. "Gold" was just given a great video treatment by director Sam Pilling, and was also remixed by Moon Boots. You can check out their new video and remix at the bottom of this post, along with 2012 offerings "Baby I Got That" and "It's You."
Bondax will be embarking on a spring North American tour next month. That tour kicks off with a performance at The Mid on March 13. Ticketing information for the Chicago show is forthcoming, but check Clubtix for updates.
All Bondax dates, a tour flyer, and some videos // song streams are below...

----
Bondax - "Gold" (Official Video)

Bondax - "Baby I Got That" (Official Video)

Bondax - "It's You" (feat. Kilo Kish)

Bondax - "Gold" (Moon Boots remix)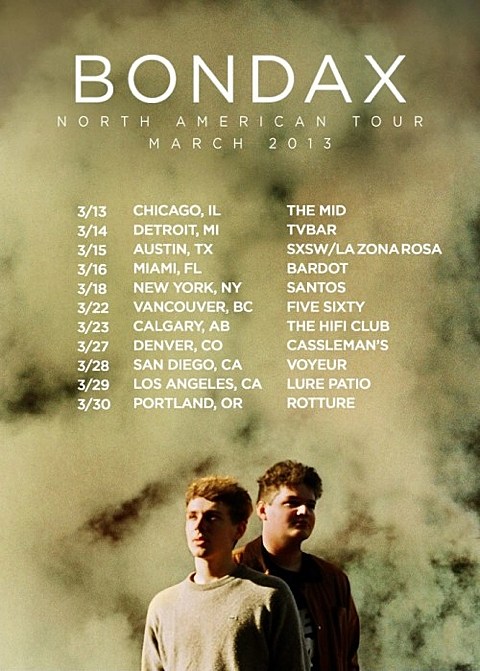 Bondax -- 2013 Tour Dates
3/13 Chicago, IL The Mid
3/14 Detroit, MI TV Bar
3/15 Austin, TX La Zona Rosa (SXSW)
3/16 Miami, FL Bardot
3/18 New York, NY Santos
3/22 Vancouver, BC Five Sixty
3/23 Calgary, AB The HiFi Club
3/27 Denver, CO Cassleman's
3/28 San Diego, CA Voyeur
3/29 Los Angeles, CA Lure Patio
3/30 Portland, OR Rotture