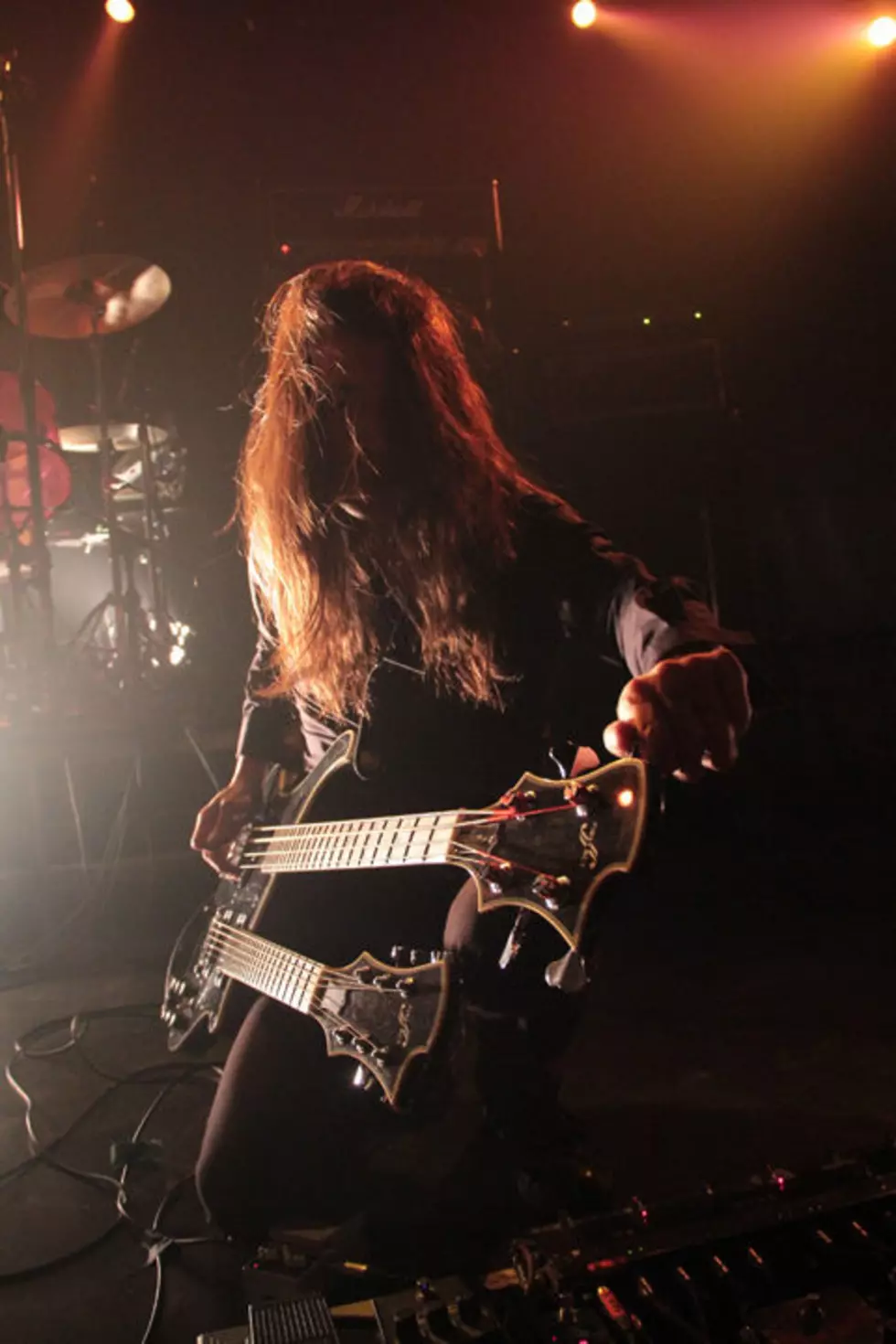 Boris, Tera Melos, & Coliseum @ Metro (pics, review, setlist)
Louisville, KY's Coliseum played in Chicago for their third time since May, opening for Tera Melos and Boris at Metro last Wednesday (10/19). It was their best performance of the three shows, and they fit into the eclectic lineup well with their sludgy hardcore punk. They began with thick feedback, which gave way to a rolling riff. A false ending brought guitarist Ryan Patterson back into hard strumming that caused a broken D string (or was it a G string? Puns aside, I really couldn't tell), adjusting his playing to continue. Between songs, Patterson took a couple minutes to change the string after creating a loop of whirring and thumping noises that sounded like heavy machinery. He later gave a speech, as I've come to expect, in which he thanked Boris for their kindness and expressed how grateful Coliseum is to be making a living from their music. Bassist Mike Pascal quietly displayed his usual jolly enthusiasm, hopping around and grinning.
Tera Melos is a unique blend of math rock, slacker indie pop, grunge, punk, and noise. At one minute they'll be playing a fairly poppy song, maybe with a few strange chords, and suddenly it breaks down into chaos. During these sections, Nick Reinhart randomly tapped frets on his guitar, staring at his jerkily moving fingers as if the instrument had possessed them. It was reminiscent of Queens of the Stone Age's psychedelic freak-outs on their first two albums. When they got heavy it was abrasive with loose rhythm and tone. John Clardy's jazzy punk drumming was aggressive with many intentionally arrhythmic moments. Their new honorary member joined them on stage, a Freddy Krueger costume that was suspended next to Reinhart.
A very intoxicated man ranted to me about how seeing Boris is as awesome as our parents going to Steely Dan or Led Zeppelin, which I found funny at first but it actually made some sense after a couple songs. Boris gave off a rock star aura as they walked on stage, enhanced by the volume and enthusiasm of the audience's cheers. Atsuo wore a headset mic, playing drums made of clear acrylic in the tradition of John Bonham, raised high on the stage to compete with the height of the towering full stack guitar amps and cabinets. Takeshi had a double-necked guitar that was split between a bass and a standard guitar, which I heard someone refer to as a "Swiss Army-tar." They covered a ridiculously wide range of rock sub-genres, including stoner metal, indie rock, hair metal, classic rock, and pop punk while maintaining an overall ambient and sludgy tone.
Head below to view more pictures of all three acts, and Boris' setlist.

Coliseum

--
Boris -- Metro Setlist (10/19)
Riot Sugar
8
Statement
Attention Please
Party Boy
Flare
Spoon
Missing Pieces
Window Shopping
1970
Pink
Aileron
--