Deafheaven & Marriages playing Subterranean on summer tour
Gregory R. Cristman
Deafheaven @ Public Assembly in March of 2012 (more by Greg Cristman)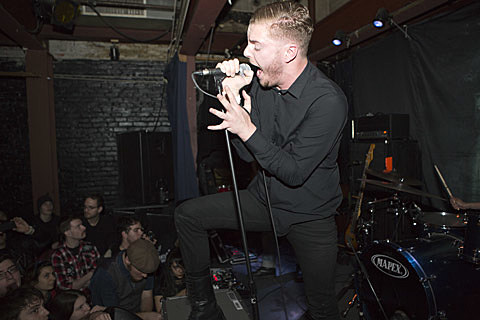 Deafheaven are set to release their second album, Sunbather, on June 11 via Deathwish Inc.. So far, they've allowed the excellent "Dreamhouse" to slip out of the gates, which is equal parts punishing and atmospheric. You can stream the single at the bottom of this post. Preorder Sunbather via Deathwish's webstore.
In support of Sunbather, Deafheaven will embark on a summer U.S. tour with Marriages. That tour includes a performance at Subterranean on July 6. Tickets for the Chicago show go on sale this Saturday (5/18) at 10AM CST.
All known Deafheaven tour dates and a stream of "Dreamhouse" are below...

----
Deafheaven - "Dreamhouse"

Deafheaven -- 2013 Tour Dates
05-14 St. Petersburg, Russia - Arktika
05-22 San Francisco, CA - Rickshaw Stop *
05-23 Los Angeles, CA - Echoplex *
05-24 Los Angeles, CA - Echoplex *
06-19 Phoenix, AZ - Yucca Taproom ^
06-21 Dallas, TX - Club Dada ^
06-22 Austin, TX - Red 7 ^
06-23 Houston, TX - Mangos ^
06-25 Orlando, FL - Will's Pub ^
06-26 Atlanta, GA - The Earl ^
06-27 Birmingham, AL - The Forge ^
06-28 Charlotte, NC - Milestone ^
06-29 Raleigh, NC - King's Barcade ^
06-30 Washington, DC - Rock & Roll Hotel ^
07-01 Philadelphia, PA - The Barbary ^
07-02 Brooklyn, NY - St. Vitus ^
07-03 Boston, MA - TT The Bears ^
07-05 Cleveland, OH - Grog Shop ^
07-06 Chicago, IL - Subterranean ^
07-07 Detroit, MI - Magic Stick Lounge ^
07-08 Kansas City, MO - Record Bar ^
07-09 Denver, CO - Marquis Theatre ^
07-10 Salt Lake City, UT - Kilby Court ^
07-12 Seattle, WA - El Corazon ^
07-13 Portland, OR - Bunk Bar ^
07-15 San Francisco, CA - Bottom of the Hill ^
* with Boris
^ with Marriages