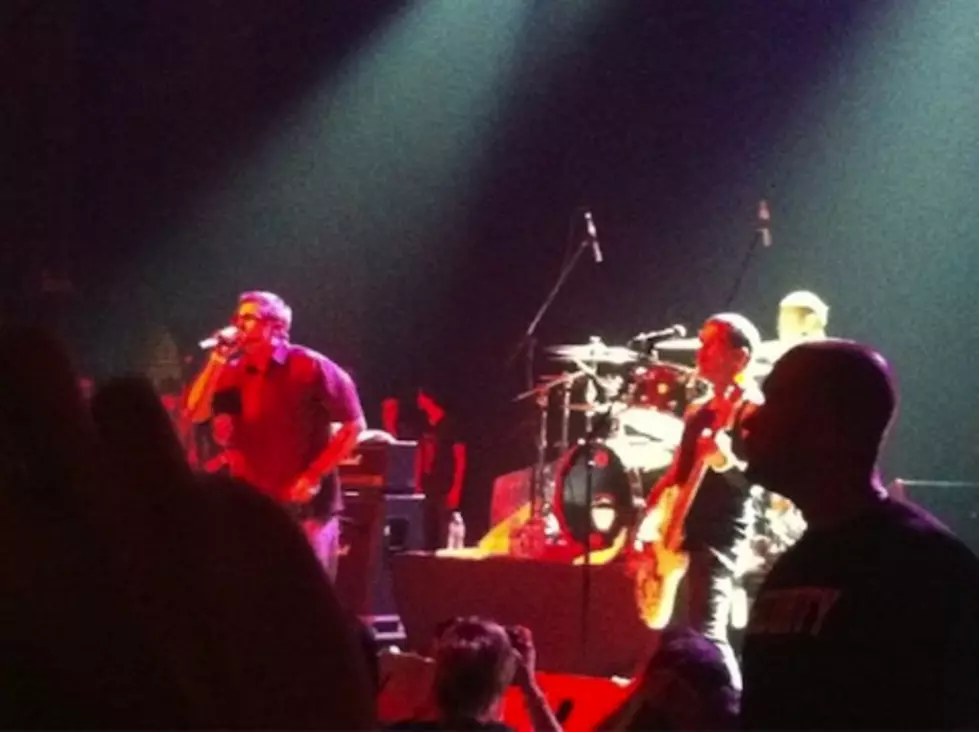 Descendents, Suicide Machines, Leftover Crack & more played the Riot Fest @ Congress Theater (review)
words by Parker Langvardt
Descendents @ Congress Theater (photo by Jessy Roxalot)

Michigan punk trio Cheap Girls opened Saturday (10/8)'s Riot Fest show at the Congress Theater with indie-pop tinged songs reminiscent of the late 90s. Their relaxed vocals and slacker demeanor emphasized the focus on the music rather than any notions of stardom. This continued throughout the day, and the venue always felt intimate despite the size.
The Copyrights hit the growing audience with a set full of chugging guitar chords and the occasional blast beat. The first mosh pits of the day started to form shortly into their set. Bassist Adam Fletcher was celebrating his 30th birthday that day, and they played the first phrase of "Happy Birthday," letting it ring out-of-tune before launching into an aggressive pop punk song.
Bluegrass punks Larry and His Flask strummed fast chords before exploding into insane rockabilly. Pointy-bearded double bassist Jeshua Marshall leapt several feet across the stage and continued to jump around through the entire set, slapping and popping as he dragged and heaved the massive instrument around. Acoustic guitarist Dallin Bulkley looked like an Amish punk with his long beard and huge, flat-brimmed hat. The mandolin player Kirk Skatvold switched to trumpet for their mariachi ska-punk songs, joined on euphonium and trombone by Jeshua and banjoist Andrew Carew respectively. Drummer Jamin Marshall stood at his kit during the entire performance, and fell to his knees at one point to roll his sticks on a low cymbal. The bluegrass snare drum rolls throughout many of their songs appropriately sounded like a train clacking over tracks. Towards the end of their set, the entire band (with the exception of the drummer) climbed over the barrier to join the audience, making everyone get down on the floor. After a suspenseful minute without music, they counted to four and everyone scrambled to stand up and mosh. They asked the crowd to "scream like it's the end of the world" before tearing through one last song.
Chicago locals Shot Baker picked up on the aggression lost when The Copyrights finished their set. Their singer roamed free with his mic, yelling gruffly while the rest of the band stood relatively still, playing their instruments.
Ontario, Canada's The Flatliners' set included songs such as "Eulogy," "Monumental," and "Fred's Got Slacks," which is named after a song from the Saturday Night Live skit "The Devil Can't Write A Love Song," in which Will Ferrell is the devil and Garth Brooks sells his soul for the ability to write better songs. It turned out the Devil isn't any good at writing songs, but The Flatliners' are, and they pumped up the crowd with fast ska-punk guitar rhythms and relentless vocals.
The Menzingers played a set of pop punk songs with slightly distorted guitar chords and arpeggios.
Strike Anywhere's vocalist Thomas Barnett stood out from most of the other front men with his dreadlocks and slight boyish singing timbre, which he easily transitioned into melodic screaming.
Local Celtic punks Flatfoot 56 began by telling the crowd that they were grateful to have been asked to play Riot Fest, because they would have bought tickets anyway. Drummer Justin Bawinkel provided humorous commentary every couple songs, once stating that his facial hair "felt inferior" after seeing Larry and His Flask. Bagpiper Eric McMahon didn't play on every song, but helped expand their stage presence by walking around and amusingly posing with his forehead against the microphone before popping up to shout a single "Hey!" He played with a diverse style that set him apart from most Celtic punk bagpipers. Brandon Good's mandolin playing was even more diverse, ranging from sunny Appalachian melodies to surf rock tremolo picking. A circle pit opened up twice the diameter of the red glowing top of Congress' domed roof.
The smoking alley that the Congress Theater left open was just about filled to capacity right before Leftover Crack, which is where I met a group of Canadians that had driven from Ontario with the main purpose of seeing them. The band was denied entry on their last trip to Canada, and there has been no sign of a trip back. The stage was hazy as they started, and Stza Crack's voice had a smoky, nasally sneer when he sang, which became a gritty scream for heavier sections. They played the ska punk song "500 Channels" by their old band, Choking Victim, and Stza jumped into the crowd to join them in singing. They followed with a dance-punk song with funk elements, which was a welcomed departure from the same punk rhythms and sounds that occurred all day. Stza wished everyone a "Happy Skalloween" and began a call and response of "Fuck the Police!" before the band launched into the offbeat ska strumming of "Gang Control." They then played a song that Stza said was about unity, tolerance of sexual orientation, nationality, race, and "all that bullshit."
The Suicide Machines opened with "Our Time," and sprinkled other Destruction By Definition ska punk songs throughout their set including "New Girl," "Island," "S.O.S." "Break the Glass," and "The Real You." I was hoping there would be some brass considering some of my favorite Suicide Machines recordings have them, but there wasn't any. Singer Jason Navarro said that their secret show at the AAA Warehouse was one of the craziest shows he's ever played, and that he got in a car for no apparent reason with one of the guys from Naked Raygun and puked on the interior. At the end of their set, the bassist swung his bass over his shoulder, catching it, and the guitarist tossed his guitar ten feet in the air across the stage, landing upside down and snapping its neck on impact.

Similarly to 2010's Riot Fest headliners Bad Religion, the reunited Descendents have vocally matured, adding deepness and clarity that seems to come with age and practice. Singer Milo Aukerman actually holds a doctorate in biochemistry, much like Bad Religion's Greg Graffin, whose muddled P.H.D. is in something along the lines of evolutionary biology. The difference is that Aukerman tended to write about a more personal level of life than Graffin, making them much more accessible and less polarizing, especially with their pop-punk sound. Their unique style, which involves dark and slightly bizarre scales, shakes things up from the stereotype of punk, and I think it ends up being more genuine. The vibrato guitar melody of "Silly Girl" was much more full and emotional than the recording. "I Wanna Be a Bear" reminded everyone of Aukerman's wit. One of my favorite parts of the show was Aukerman's reading of the band's Ten Commandments during "All-O-Gistics," with an artificial stone in hand:

Thou shalt not commit laundry
Thou shalt covet thy neighbor's food

Thou shalt not create ties with the scathed

Thou shalt always go for greatness
Thou shalt not commit adulthood
Thou shalt not partake of decaf
Thou shalt not suppress flatulence
Thou shalt not commit hygiene

Thou shalt not have no idea
Thou shalt commit thyself to an institution
Thou shalt not take the van's name in vain
Thou shalt not allow anything to deter you in your quest for All
This concluded Saturday's epically long (2:30PM on) Congress Theater show.
We don't have pictures from this one, but you can see some from Helmet's Riot Fest set, HERE.