Doomtree add Wugazi show @ Bottom Lounge
Cecil Otter @ Fun Fun Fun Fest 2011 (more by BBG)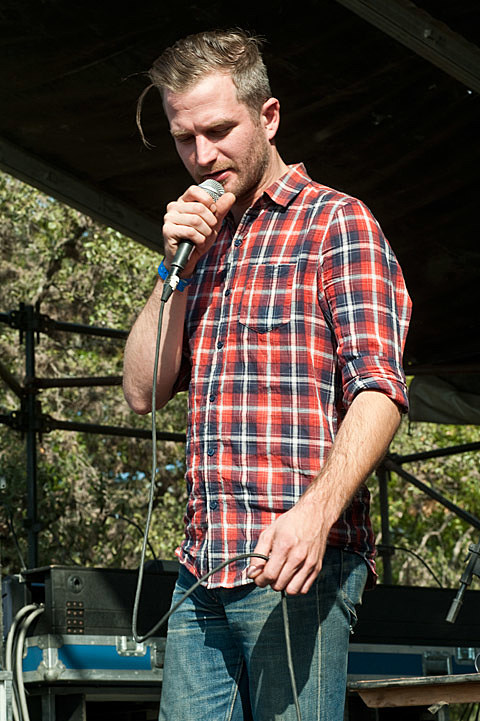 As mentioned, Minneapolis hip hop collective Doomtree will reach Chicago's Bottom Lounge on February 23rd, on tour in support of their recently released LP No Kings. Tickets are still available.
Band member Cecil Otter and fellow minneapolitan Swiss Andy, the masterminds behind Wugazi, recently tacked on a late show (10PM doors) of the material. Tickets for the Wugazi set are on sale now. Unfortunately if you are underage, the late show is not an option.
In related news, Sage Francis, whose Strange Famous Records re-released Cecil Otter's debut solo LP Rebel Yellow and will also put out his sophomore effort Porcelain Revolver, is playing the Bottom Lounge on February 18th. Tickets are still available.
All 2012 Doomtree tour dates and some videos, below..

--
Doomtree - "Bangarang"

--
Wugazi - "Sleep Rules Everything Around Me"

--
DOOMTREE - 2012 TOUR DATES
1/31 @ Slim's- San Francisco, CA
2/01 @ Catalyst Atrium- Santa Cruz, CA
2/02 @ The Troubadour- West Hollywood, CA
2/03 @ The Casbah- San Diego, CA
2/04 @ Chasers- Scottsdale, AZ
2/07 @ Dan's Silverleaf- Denton, TX
2/08 @ Fitzgerald's Downstairs- Houston, TX
2/09 @ One Eyed Jacks- New Orleans, LA
2/10 @ Bottletree Cafe- Birmingham, AL
2/11 @ Drunken Unicorn- Atlanta, GA
2/12@ Local 506- Chapel Hill, NC
2/13 @ Rock and Roll Hotel- Washington, DC
2/15 @ Union Transfer- Philadelphia, PA
2/16 @ Bowery Ballroom- New York, NY
2/17 @ The Middle East- Downstairs- Cambridge, MA
2/18 @ II Motore- Montreal, QC
2/19 @ Sneaky Dee's- Toronto, ON
2/20 @ Shadow Lounge- Pittsburgh, PA
2/21 @ Beachland Ballroom- Cleveland, OH
2/22 @ Blind Pig- Ann Arbor, MI
2/23 @ The Bottom Lounge- Chicago, IL
2/25 @ Turner Hall- Milwaukee, WI
--