English Dogs played Reggie's (and Ottobar) with The Casualties, Toxic Holocaust & Havok (pics)
Ottobar photos by Chris Boarts Larson, Reggie's photos by Carmelo Espanola
English Dogs @ Reggie's

English Dogs brought their Forward Into Battle lineup to Reggie's on 2/16, part of the band's tour with The Casualties, Toxic Holocaust, and Havok that hit Europa in NYC on 2/12. Pictures from Reggie's, as well as another set from Baltimore's Ottobar on February 10th, are in this post.
The English Dogs' dates with America has officially come to a close, but Casulaties and Toxic Holocaust have forged on with their own US dates. Those tour dates are also below.

--
Toxic Holocaust at Ottobar
The Casualties at Ottobar
English Dogs at Ottobar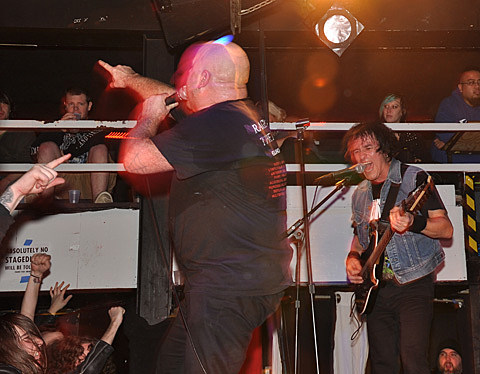 Toxic Holocaust at Reggie's
Casualties at Reggie's
English Dogs at Reggie's
If you missed it, check out a recent interview with guitarist Gizz Butt at BrooklynVegan.
THE CASUALTIES, TOXIC HOLOCAUST - 2012 TOUR DATES
Mar. 2 San Antonio, TX White Rabbit
Mar. 3 Austin, TX Red 7
Mar. 4 Houston, TX Walter's
Mar. 5 New Orleans, LA Siberia
Mar. 7 Tampa, FL Brass Mug
Mar. 8 Miami, FL Churchill's Pub
Mar. 9 Jacksonville, FL The Phoenix Taproom
Mar. 10 Atlanta, GA The Drunken Unicorn
Mar. 11 Charlotte, NC The Casbah at The Tremont Music Hall
Mar. 12 Virginia Beach, VA Jewish Mother
Mar. 13 Richmond, VA Strange Matter
Mar. 14 Pittsburgh, PA Rex Theatre
Mar. 15 Philadelphia, PA The Barbary
Mar. 16 Whitehall, PA Planet Trogg
Mar. 17 Syracuse, NY Montage Music Hall
Mar. 18 New London, CT The El and Gee Club