Ex-Cult playing the Empty Bottle on spring US tour (dates)
Ex-Cult @ Lamar Pedestrian Bridge during SXSW 2014 (more by Amanda Hatfield)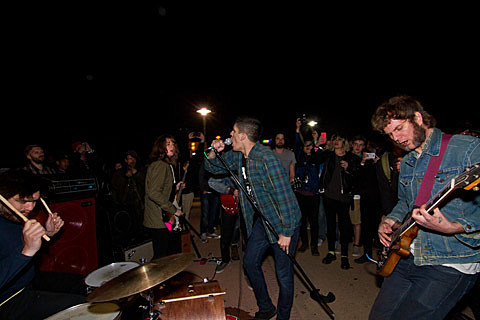 Memphis' Ex-Cult, who just recently delivered a charismatic performance on a pedestrian bridge during SXSW, are gearing up for their second spring US tour. That tour is slated to begin in mid-May and will tag Chicago for a show at the Empty Bottle on May 29. Advance tickets are on sale now, with support TBA.
The band are also gearing up for the release of their second album, Midnight Passenger, which is due out on April 29 via Goner Records. So far, they've let the LP's intense title track fly and you can take a listen to it at the bottom of this post.
All known Ex-Cult dates, a stream of "Midnight Passenger," and a couple of videos lie after the jump...

--
Ex-Cult - "Midnight Passenger"

Ex-Cult live at Goner Records (1 of 4)

Ex-Cult -- 2014 Tour Dates
THU 4/3/2014 Fresh Start Louisville, Kentucky
FRI 4/4/2014 Phuzz Phest Winston-Salem, North Carolina w/ Woodsman, White Fence
SAT 4/5/2014 MacRock Harrisonburg, Virginia w/ Big Ups
SUN 4/6/2014 Pilot Light Knoxville, Tennessee
SAT 5/17/2014 529 Atlanta, Georgia w/ GHB, Zoners, & Carmen
SUN 5/18/2014 Pinhook Durham , North Carolina
MON 5/19/2014 Strange Matter Richmond, Virginia
TUE 5/20/2014 DC9 Washington, DC
THU 5/22/2014 Mercury Lounge New York, New York
SAT 5/24/2014 Dogwood Beacon, New York
MON 5/26/2014 Middle East Upstairs Boston, Massachusetts
WED 5/28/2014 Happy Dog Cleveland, Ohio
THU 5/29/2014 Empty Bottle Chicago, Illinois
FRI 5/30/2014 Firecracker 500 Festival at the Mill Iowa City, Iowa