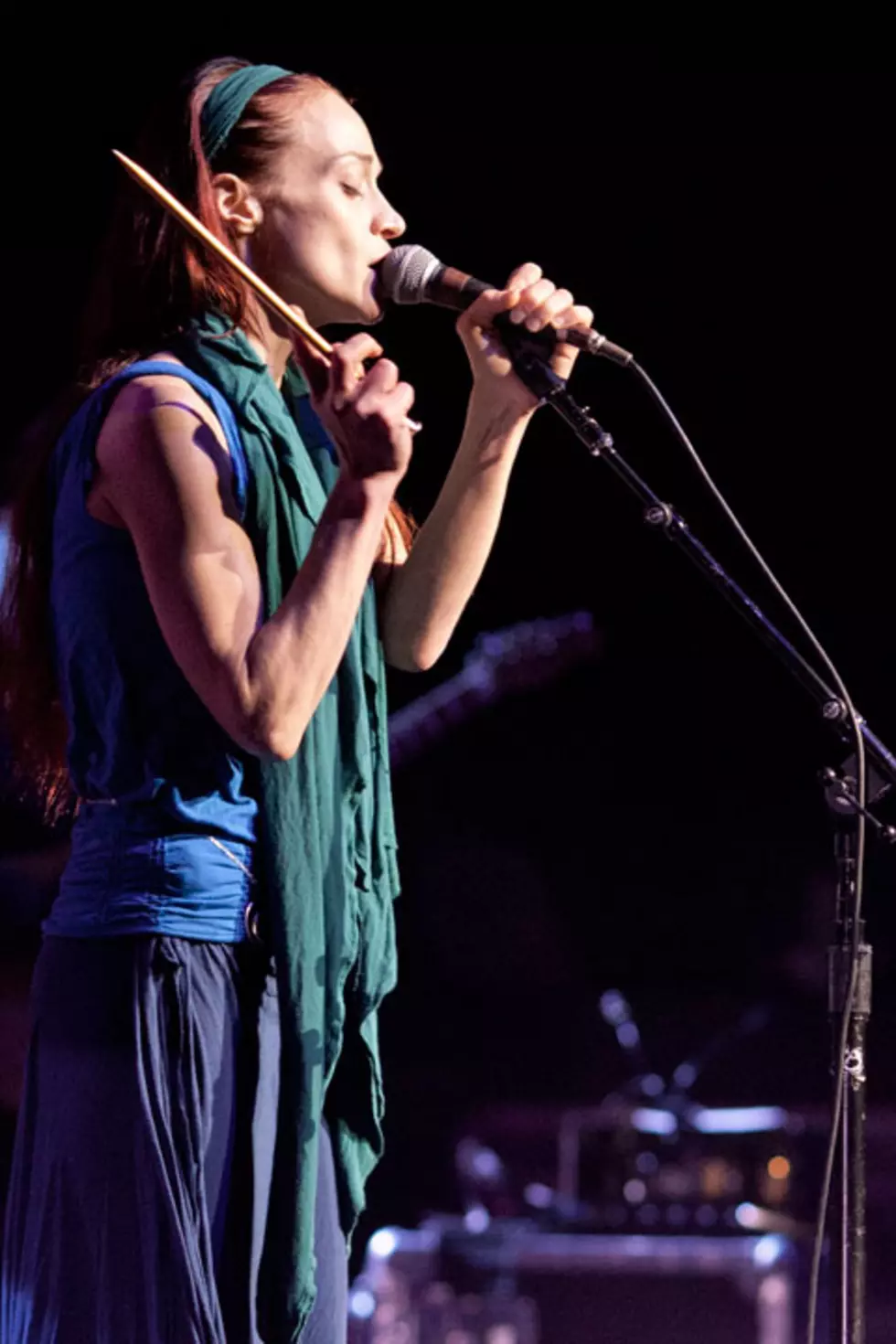 Fiona Apple & Blake Mills played The Chicago Theatre —– (pics, setlist)
Sarah Frankie Linder
Fiona Apple @ The Chicago Theatre on 7/10/2012

"Yes, I'm Fiona," quipped guitar great Blake Mills as he took the stage at The Chicago Theatre on Tuesday night (7/10). The solo artist, who is also the guitar player in Fiona Apple's backing band, played an opening set that consisted of material from his album Break Mirrors, plus some new tunes. One of those new ones was a slow-burning country number called "Don't Tell All Your Friends About Me," which features honest and confessional lyrics built around its title. Apple band members Sebastian Steinberg, Amy Wood, and Zac Rae slowly began to accompany Mills as his set progressed, making way for the headlining performance after roughly 40-minutes.
Fiona Apple entered with agressive confidence and launched directly into "Fast as You Can," her four-piece band in tow. She gripped the mic stand, wide-eyed, as if she was considering tossing it into the crowd. That didn't happen, and when Fiona did let go, she danced about the stage in a thrashing manner. Throughout the performance she alternated positions between the center of the stage and her piano bench. Zac Rae handled most of the the keys duties, which freed up the mysterious singer-songwriter to do as she pleased. She went on to play fan-favorites from the 90s including "Paper Bag," "Sleep To Dream," and "Criminal." While performing the song "Every Single Night" from the year's The Idler Wheel... Apple sang the lyrics, "Every single night's a fight with my brain." On Tuesday night at The Chicago Theatre she seemed like she was doing exactly that. From passionately shouting lyrics to pounding on the keys of her piano, this show was a battle from start to finish. Fiona closed with a gentle cover of Conway Twitty's "It's Only Make Believe," and quietly thanked everyone for coming out before exiting stage right.
More pictures from the sold-out Chicago Theatre show and the setlist below...


--
Fiona Apple - 7/10 Chicago Theatre setlist:
Fast as You Can
On the Bound
Shadowboxer
Paper Bag
Anything We Want
Get Gone
Sleep to Dream
Extraordinary Machine
Werewolf
Tymps
Daredevil
I Know
Every Single Night
Not About Love
Carrion
Criminal
It's Only Make Believe (Conway Twitty cover)
--