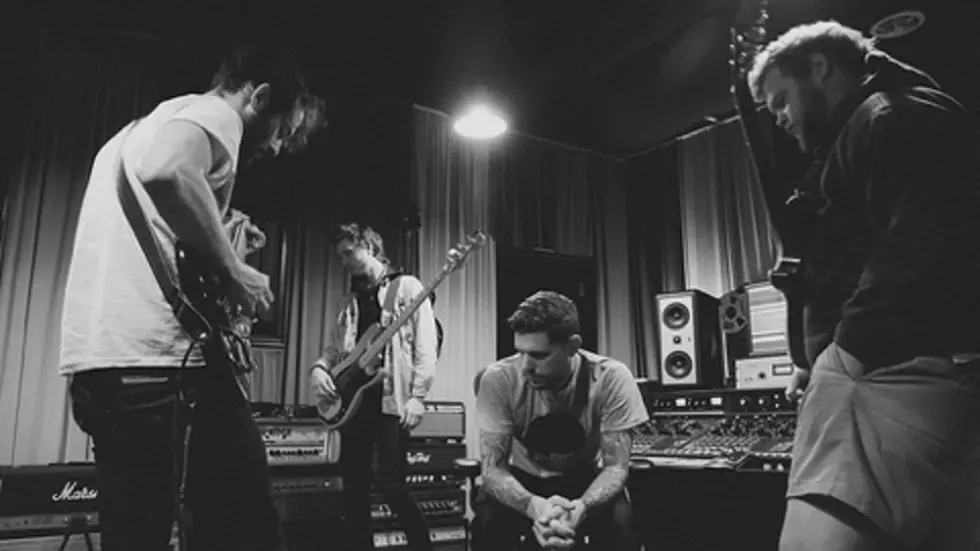 Frameworks releasing 'Loom,' playing Township on spring tour (dates, song stream)
Frameworks recording Loom (more by Jeremy Silveira)

Gainesville melodic hardcore outfit Frameworks just recently signed to the insanely reputable Topshelf Records, who will be releasing their debut LP Loom on April 29. So far, they've shared the album's title track, which I've been playing on repeat since it hit the web roughly two-weeks ago. Frameworks bring post-rock and major key tunes to their screamo base, making for a very immediate and seriously real debut. The LP was recorded by Jack Shirley (Deafheaven, Joyce Manor) in his San Francisco studio, and we've got studio pictures // an interview about the record up at BrooklynVegan. You can preorder Loom via Topshelf's webstore. Look out for these guys.
Frameworks will be tagging SXSW for a handful of shows, including the BrooklynVegan official showcase on Wednesday, March 12 at Red 7 Patio. They've also announced a spring North American tour in support of Loom with Gates and Tiny Moving Parts, which includes a performance at Township on April 23. Ticketing information for the Chicago show is forthcoming, but check Township's site for updates.
All Frameworks dates and a stream of "Loom" lie after the jump...

Frameworks -- 2014 Tour Dates
3/07 - Loosey's Gainesville, FL
3/09 - Backbooth Orlando, FL
3/12 - Red 7 Patio Austin, TX (BrooklynVegan SXSW Showcase)
3/13 - 21st Street Co-op Austin, TX
4/06 - Brewster's Megaplex The Roc Bar Jacksonville, FL
4/15 - Raleigh, NC - Kings^
4/16 - Baltimore, MD - Charm City Art Space^
4/17 - Philadelphia, PA - The Fire^
4/18 - Brighton, MA - Roggies^
4/19 - Brooklyn, NY - Saint Vitus^
4/20 - Pittsburgh, PA - Smiling Moose^
4/22 - Newport, KY - Southgate House^
4/23 - Chicago, IL - Township *^
4/24 - St. Louis, MO - Firebird *^
4/25 - Lincoln, NE - Bourbon Theatre *^
4/26 - Denver, CO - Marquis Theatre *^
4/27 - Salt Lake City, UT - Shred Shed *^
4/29 - Seattle, WA - El Corazon Lounge *^
4/30 - Portland, OR - Slabtown *^
5/02 - San Francisco, CA - Brick and Mortar *^
5/03 - Los Angeles, CA - Cobalt Cafe *^
5/04 - San Diego, CA - Che Cafe *^
5/05 - Mesa, AZ - The Underground * ^
5/06 - El Paso, TX - The Spot *^
5/07 - Austin, TX - Mohawk Inside *^
5/08 - Dallas, TX - Three Links *^
5/09 - Jackson, MS - Rampage Extreme Skatepark *
^ w/ Gates
* w/ Tiny Moving Parts