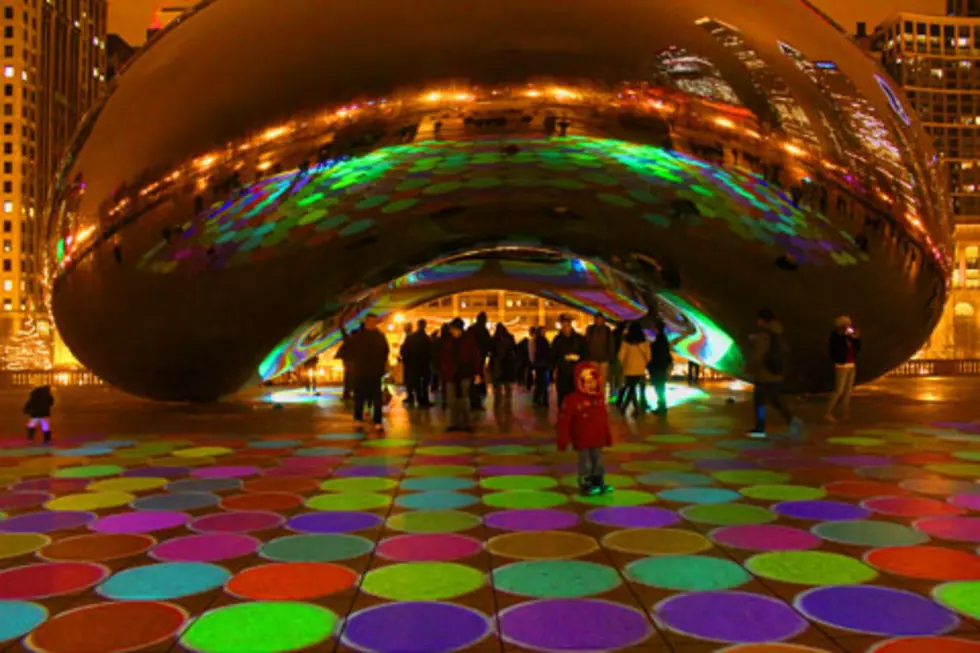 here's some pictures from Millennium Park's Luminous Field; Pillars and Tongues (also playing a BVC Presents show @ Cole's) play there Sunday
Benjamin Cohen
As briefly mentioned in What's Going on Monday?, video design and new media installation collective Luftwerk opened up their brand new project Luminous Field to the general public on February 10. Within Millennium Park - more specifically at the site of Cloud Gate (aka The Bean) - are massive video projectors that cycle through many different patterns and colors, syncing up with its programmed musical scores.
We think they should test the system out with some Kraftwerk (who just announced 8-NYC shows), Godspeed You! Black Emperor, and CAVE, but that's a different story. Earlier this week, BV Chicago photographer Benjamin Cohen went to check out the scene for himself. More of his pictures can be found at the bottom of this post.
Chicago-based experimental band Pillars and Tongues will be playing at Luminous Field this Sunday (2/19), though unfortunately (or is it fortunately?) in a very near-by heated tent and NOT directly at Cloud Gate. They are scheduled to perform in the tent from 7 to 10PM, with "doors" set for 6:30PM. Admission is FREE, but we suggest getting there early as space is limited.
Ben's pictures from Luminous Field, Cole's show flyer, and Luftwerk promo video, below..


--

--
PILLARS AND TONGUES - 2012 TOUR DATES
02-19 Luminous Fields/Millennium Park - Chicago, IL
02-21 Cole's Bar - Chicago, IL w/ Willis Earl Beal (BV Chicago Presents)
--


--