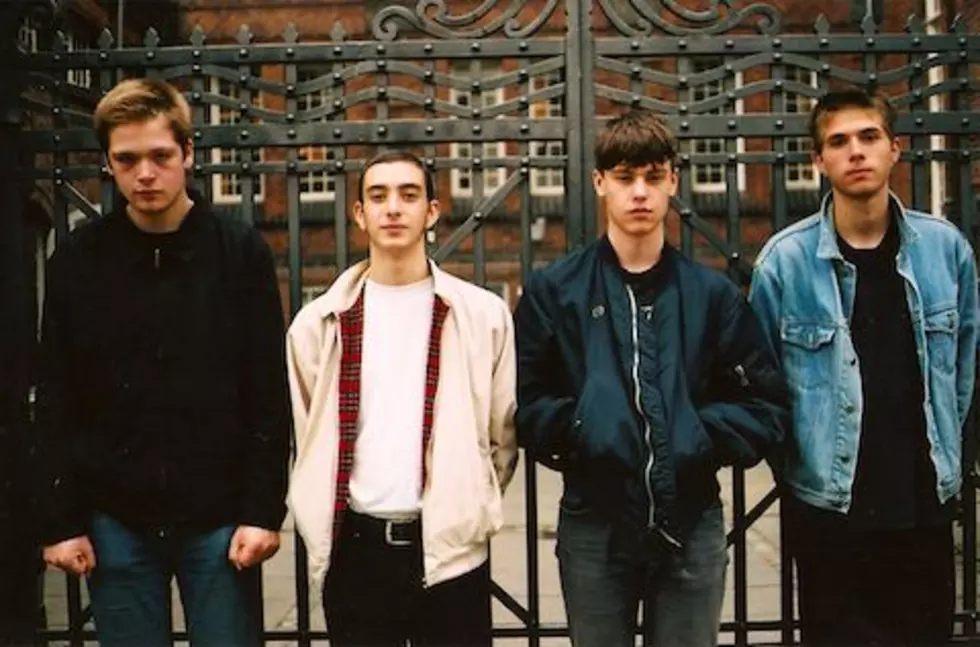 Iceage are coming to the US next week, releasing their debut LP 'New Brigade' +++ playing The Loft & other 2011 dates
Iceage (photo by Alberte Karrebaek)

Copenhagen, DK-based band; Iceage are set to release their debut LP New Brigade on June 21st via What's Your Rupture?
...New Brigade; Iceage's debut album is 26 minutes of anthemic stress, of tension undiluted by worldly wisdom or amassed experience. Following a seven-inch single (recorded by Peter Peter, of the Sods and Sort Sol) and compilation track, New Brigade displays a confidence that substitutes worldly experience for the thrills of discovery, of knowing that it is possible to forge your own path in light of adults, the establishment, and prevailing wisdom telling you to do otherwise. In this tradition, New Brigade's twelve songs rush past, long enough to hit you in the chest and short enough to make you wonder what happened. [Pitch Perfect PR]
At the top of this post you can download the New Brigade cuts "Broken Bone," and "White Rune."
Next week, they'll arrive in the US (more specifically Brooklyn, NY) to play Public Assembly as part of the Northside Festival.
The band will be in Chicago on August 6th (smack in the middle of Lollapalooza) to play The Loft (1800 S. Racine Avenue).
Head below to view all 2011 tour dates.

--
ICEAGE - 2011 TOUR DATES
Fri. June 17 -- New York, NY @ Northside Festival - Public Assembly
Sun. June 19 -- Philadelphia, PA @ The Barbary w/ Puerto Rico Flowers, Leather
Mon. June 20 -- Baltimore, MD @ Golden West
Tue. June 21 -- Pittsburgh, PA @ The Shop
Thu. June 23 -- New Haven, CT @ Popeye's Garage
Fri. June 24 -- Boston, MA @ Royale Nightclub w/ F**ked UP, Jeff the Brotherhood
Sat. June 25 -- New York @ TBA
Thu. June 30 -- Sun. July 3 -- Roskilde, DE @ Roskilde Festival
Fri. July 15 -- Houston, TX @ The Mink
Sat. July 16 -- Austin, TX @ Emo's
Tue. July 19 -- Phoenix, AZ @ The Yellow Canary Dancehall
Wed. July 20 -- Las Vegas, NV @ The Cave (right off of Warm Springs/Fort Apache) w/ Ill Bred, Seeds of Rape
Fri. July 22 -- San Diego, CA @ Casbah w/ Cult of Youth
Sat. July 24 -- Los Angeles, CA @ Echo w/ Cult of Youth
Mon. July 25 -- San Francisco, CA @ Elbo Room w/ Cult of Youth
Fri. July 29 -- Portland, OR @ The East End w/ Cult of Youth
Sat. July 30 -- Vancouver, BC @ Waldorf Hotel w/ Cult of Youth
Sun. July 31 -- Seattle, WA @ Crocodile
Tue. Aug. 2 -- Denver, CO @ Rhinoceropolis
Wed. Aug. 3 -- Lawrence, KS @ Jackpot Music Hall
Thu. Aug. 4 -- Minneapolis, MN @ Triple Rock
Fri. Aug. 5 -- Madison, WI @ The Project Lodge
Sat. Aug. 6 -- Chicago, IL @ The Loft w/ Raw Nerve, Pollution, Pitfall
Tue. Aug. 9 -- Columbus, OH @ The Carabar w/ The Men
Wed. Aug. 10 -- Detroit, MI @ Magic Stick
Thu. Aug. 11 -- Pittsburgh, PA @ The Shop
Fri. Aug. 12 -- Richmond, VA @ Strange Matter
Sun. Aug. 14 -- Philadelphia, PA @ Kungfu Necktie
Mon. Aug. 15 -- Boston, MA @ Midway Cafe
Tue. Aug. 16 -- Montreal, QC @ Casa Del Popolo
Wed. Aug. 17 -- Toronto, ON @ Parts and Labour
Fri. Aug. 19 -- Boston, MA @ Paragon
Sat. Aug. 20 -- New York, NY @ Cakeshop
Sun. Aug. 21 -- New York, NY @ Secret Project Robot
--