Jacco Gardner playing the Empty Bottle on fall tour
Jacco Gardner @ NYC's Mercury Lounge in March (more by PSquared Photography)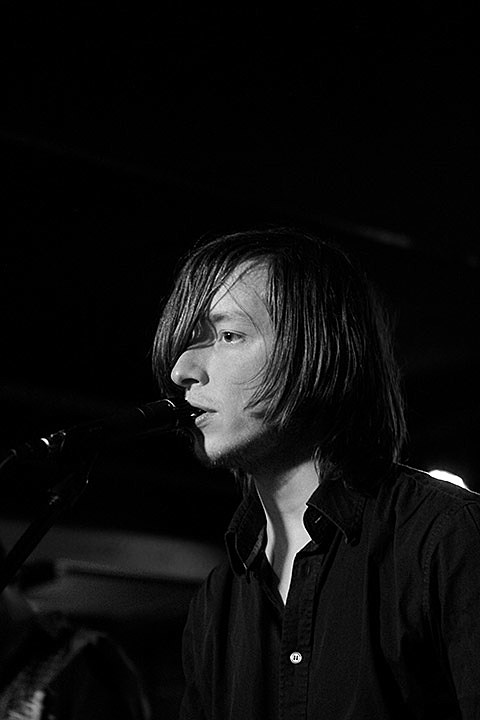 Dutch baroque pop musician Jacco Gardner welcomed his solid debut LP, Cabinet of Curiosities, at the beginning of this year via Chicago's own Trouble in Mind. Gardner played a string of U.S. dates surrounding a stop at SXSW 2013, and is now slated to embark on a North American tour this coming October. That tour includes a performance at the Empty Bottle on October 26. Tickets for the Chicago show go on sale this Friday (7/12) at noon CST.
All Jacco Garder dates and a couple of videos are below...

----
Jacco Gardner - "Chameleon"

Jacco Gardner - "The Ballad of Little Jane"

Jacco Gardner -- 2013 Tour Dates
Sat. July 13 - Andijk, NL @ Dijkpop
Sun. July 14 - Liége, BE @ Les Ardentes
Wed. July 17 - Nijmegen, NL @ Valkhof Festival
Thu. July 18 - Canterbury, UK @ Lounge On The Farm Festival
Fri. July 19 - Dour, BE @ Dour Festival
Sun. July 21 - Benicassim, ES @ Festival Internacional
Tue. July 23 - Lille, FR @ La Péniche
Wed. July 24 - Gent, BE @ Boom Town Festival
Fri. July 26 - Barcelos, PT @ Milhoes de Festa
Sat. July 27 - Diepholz, DE @ Appletree Garden Festival
Sun. July 28 - Canterbury, GB @ Lounge on the Farm
Sat. Aug. 3 - Leuven, BE @ M-idzomer Festival
Sun. Aug. 4 - Venlo, NL @ Zomerparkfeest
Sun. Aug. 11 - Helsinki, FI @ Flow Festival
Thu. Aug. 15 - Rennes, FR @ La Route du Rock
Fri. Aug. 16 - Powys, GB @ Green Man Festival
Sun. Aug. 18 - Biddinghuizen, NL @ Lowlands
Fri. Sep. 9 - Vlieland, NL @ Into The Great Wide Open
Fri. Sep. 13 - Bergen, NO @ Phono Festivalen
Sat. Sep. 14 - Leffinge, BE @ Leffingeleuen Festival
Thu. Sep. 26 - Hamburg, DE @ Reeperbahn Festival
Sat. Sep. 28 - Liverpool, GB @ Liverpool International Festival of Psychedelia
Tue. Oct. 1 - San Diego, CA @ Casbah *
Wed. Oct. 2 - Los Angeles, CA @ The Troubadour *
Thu. Oct. 3 - San Francisco, CA @ The Depot at San Francisco State University
Fri. Oct. 4 - Big Sur, CA @ Fernwood Resort *
Sat. Oct. 5 - San Francisco, CA @ The Chapel * !
Mon. Oct. 7 - Portland, OR @ Mississippi Studios #
Tue. Oct. 8 - Vancouver, BC @ Biltmore Cabaret
Wed. Oct. 9 - Seattle, WA @ Barboza
Thu. Oct. 10 - Boise, ID @ Neurolux
Sat. Oct. 12 - Las Vegas, NV @ Beauty Bar
Tue. Oct.15 - Washington DC @ Black Cat Backstage
Wed Oct 16 - Oct 19 - New York, NY @ CMJ
Mon. Oct. 21 - Montreal, QC @ Le Divan Orange
Tue. Oct. 22 - Toronto, ON @ The Garrison
Wed. Oct. 23 - Hamilton, ON @ This Ain't Hollywood
Fri. Oct. 25 - Detroit, MI @ Garden Bowl
Sat. Oct. 26 - Chicago, IL @ Empty Bottle
Sun. Oct. 27 - Cleveland, OH @ Happy Dog
Wed. Dec. 4 - Brussels, BE @ La Botanique
Fri. Dec. 6 - Deventer, NL @ Burgerweeshuis
Sat. Dec. 7 - Hasselt, BE @ Muziekodroom
Wed. Dec. 11 - Groningen, NL @ Vera
Thu. Dec. 12 - Dordrecht, NL @ Bibelot
Fri. Dec. 13 - Heerlen, NL @ Nieuwe Nor
Sat. Dec. 14 - Haarlem, NL @ Patronaat
Thu. Dec. 19 - Nijmegen, NL @ Doomroosje
Fri. Dec. 20 - Bergen op Zoom, NL @ Gebouw-T
Sat. Dec. 21 - Leeuwarden, NL @ Romein
Fri. Dec. 27 - Den Haag, NL @ Paard van Troje
Sat. Dec. 28 - Utrecht, NL @ Tivoli
* Allah Lahs
! Light Fantastic
# The Ozarks