Janka Nabay & the Bubu Gang played the Chicago Cultural Center (pics, video)
Janka Nabay & the Bubu Gang at the Chicago Cultural Center on 9.27.2012

Ahmed Janka Nabay took traditional Sierra Leonean bubu music and revolutionized it in the recording studio with electric and electronic instruments before fleeing to the US as a result of becoming a target in his country's civil war. His band, the Bubu Gang, consists of East Coast indie rock, world, and dance musicians.
Their performance took place on an unflattering temporary stage in the beautifully formal Preston Bradley Hall. The audience was seated as they began to play their energized dance music, and security guards attempted to keep it that way, even as Nabay urged the crowd to get up. After security asked a few people to stop, a flood of dancers came down the aisles and by then it was too much to hold back. The atmosphere instantly turned from stiff to joyous. Nabay kept himself moving for most of the show, his grass skirt bouncing as he jumped around. The band was extremely tight, but the electronic drum sounds didn't transfer particularly well in the cavernous venue. This didn't stop everyone from having a great time, and there was a crowd of dancers in front of the stage until the very end.
The group also played a "secret show" at the Logan Square bar The Owl the following night. More pictures and some video footage from their Thursday night performance at the Chicago Cultural Center can be found below...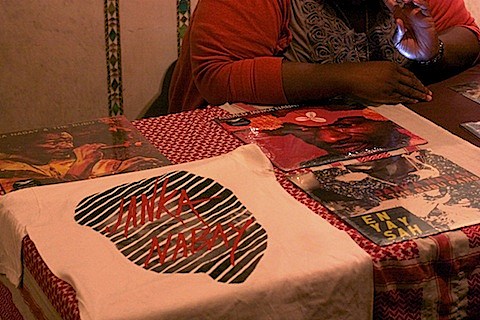 Janka Nabay & the Bubu Gang
Janka Nabay & the Bubu Gang @ The Chicago Cultural Center 092712

Janka Nabay & the Bubu Gang at Preston Bradley Hall in the Chicago Cultural Center