Laura Marling & band played Lincoln Hall (pics, setlist, video)
Ben Rodig
words by Zach Pollack, photos by Ben Rodig
Thursday night (9/22), UK songstress Laura Marling and her band took the stage at Lincoln Hall for the second time in 17 months. The ecstatic (not to mention sold out) crowd warmly welcomed all six members in a sea of cheers.
Looking extremely nervous, Marling quickly got set and launched the band into "Rambling Man," off of her 2010 LP I Speak Because I Can. Her female cellist contributed fantastic backing vocals during the song, and continued to do so throughout the set. "Stage banter is not my forte," Laura admitted after a few songs, though I feel her shyness is part of the draw. When she did get to speaking freely, she spoke of their day in Chicago, and mostly the "best ever" coffee at Intelligentsia. The crowd was extremely quiet and respectful when that was called for, but also helped to contribute group vocals to just about every song. That was most evident during "Ghosts" when Marling even commented, "you guys are such a fantastic audience" (video below).
Jumping to her just released LP A Creature I Don't Know, new songs "I Was Just A Card" and "The Muse" were performed back to back. After a few more, she shooed her band away to play a few songs by herself. Those were "Goodbye England (Covered In Snow)," a brand new untitled song (which we have a video of below), "Night After Night," and a Neil Young cover. Rejoined by her drummer, cellist, guitarist, bassist, and banjo player, a fit of laughter erupted on stage when she pronounced guitarist Pete Roe's name in a funny way. This derailed "Sophia" a few times, but eventually Marling got it together and delivered a great end to their set.
Fellow UK artist Alessi's Ark opened the show. Unfortunately we missed her though. They continue on tour.
Head below to view more pictures of Laura and her band, the videos, and their setlist...

--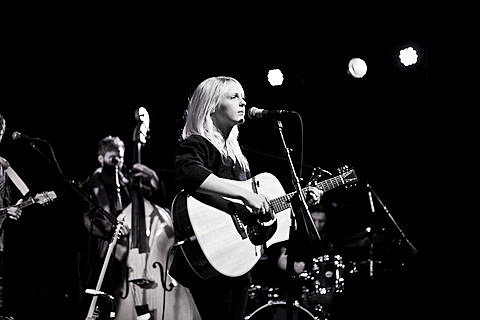 Laura Marling - New (Untitled) Song @ Lincoln Hall (9/22)

Laura Marling - Ghosts @ Lincoln Hall (9/22)

--
Laura Marling - Lincoln Hall 9/22 Setlist:
Rambling Man
Alpha Shallows
Alas I Cannot Swim
Ghosts
I Was Just A Card
The Muse
Hope in the Air
Don't Ask Me Why/Salinas
Goodbye England (Covered in Snow) *solo*
New Untitled Song *solo*
Night After Night *solo*
Neil Young cover *solo*
Sophia
I Speak Because I Can
All My Rage
--