LCD Soundsystem screening 'Shut Up and Play the Hits' @ the Music Box, James Murphy & Pat Mahoney playing Wavefront
LCD Soundsystem's last show ever @ MSG (more by Dominick Mastrangelo)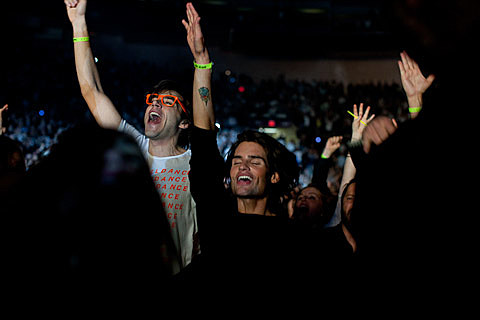 LCD Soundsystem closed out their career by playing five-NYC shows, the last of which was at Madison Square Garden (on 4/2/2011). A documentary of not only the show but the prep FOR the show called Shut Up and Play the Hits, directed by Dylan Southern and Will Lovelace, made its debut at Sundance earlier this year and has only shown at a handful of festivals. On July 18, the documentary will be shown at theaters throughout the US. You'll be able to see it here in Chicago but ONLY at the Music Box. At the moment there appears to be just one, 7:30PM showing, which goes on sale on June 8 at noon CST. Maybe they'll add a few more? All dates are listed below.
The film is being distributed by Oscilloscope Laboratories, a production/distribution company owned by late Beastie Adam Yauch. Oscilloscope and the Creators Project are running a contest which includes a trip to NYC, two nights at the swanky Ace Hotel, and a meet and greet with James Murphy (I feel a bit too much like a travel agent). Details on how to enter to win all of that great stuff are over at BrooklynVegan.
As mentioned, Soundsystem members James Murphy and Pat Mahoney are headed to Chicago to DJ the Wavefront Festival. Though they are billed separately, the two have been known to DJ together. Festival passes are still available.
Screening dates and trailer(s) below...

--

--
SHUT UP AND PLAY THE HITS
07.18.12 Albany, NY Spectrum
07.18.12 Albuquerque, NM Guild
07.18.12 Annapolis, MD Harbour 9
07.18.12 Asheville, NC Fine Arts
07.18.12 Atlanta, GA Landmark Midtown Art
07.18.12 Austin, TX Alamo Drafthouse South Lamar
07.18.12 Baltimore, MD Landmark Harbor East
07.18.12 Bellingham, WA Pickford Cinema
07.18.12 Berkeley, CA Landmark Shattuck
07.18.12 Boston, MA Landmark Kendall Square
07.18.12 Boulder, CO Boulder Theater
07.18.12 Brooklyn, NY BAM Cinematheque
07.18.12 Brooklyn, NY reRun
07.18.12 Chicago, IL Music Box
07.18.12 Cincinnati, OH Contemporary Arts Center
07.18.12 Claremont, CA Laemmle Claremont 5
07.18.12 Cleveland, OH Cedar Lee
07.18.12 Columbia, MO Ragtag
07.18.12 Dallas, TX Angelika Film Center
07.18.12 Dennis, MA Cape Cinema
07.18.12 Denver, CO Landmark Mayan
07.18.12 Detroit, MI Main Art
07.18.12 Duluth, MN Zinema
07.18.12 Eugene, OR Bijou Art Cinemas
07.18.12 Ft. Collins, CO Lyric
07.18.12 Greensboro, NC Lyndon Street Artworks
07.18.12 Hartford, CT City Cinema @ Palace
07.18.12 Honolulu, HI Kahala 8
07.18.12 Houston, TX Landmark River Oaks
07.18.12 Huntington, NY Cinema Arts Center
07.18.12 Indianapolis, IN Landmark Keystone Art
07.18.12 Iowa City, IA Bijou
07.18.12 Ithaca, NY Cinemapolis
07.18.12 Jacksonville, FL Sun-Ray Cinemas
07.18.12 Lincoln, NE Mary Riepma Ross Film Center
07.18.12 Little Rock, AR Market Street
07.18.12 Los Angeles, CA ArcLight Hollywood
07.18.12 Miami, FL Tower Cinema
07.18.12 Milwaukee, WI Landmark Downer
07.18.12 Minneapolis, MN Landmark Lagoon
07.18.12 Nashville, TN Belcourt
07.18.12 New Haven, CT Criterion
07.18.12 New York, NY Landmark Sunshine
07.18.12 Omaha, NE Film Streams
07.18.12 Orlando, FL Enzian
07.18.12 Palo Alto, CA Landmark Aquarius
07.18.12 Pasadena, CA Laemmle Playhouse
07.18.12 Phoenix, AZ Harkins Valley Art
07.18.12 Plano, TX Angelika Film Center
07.18.12 Portland, ME Space Gallery
07.18.12 Portland, OR Hollywood
07.18.12 Providence, RI Cable Car
07.18.12 Reston, VA Reston Town Center 13
07.18.12 Richmond, VA Movieland @ Blvd. Square
07.18.12 Rochester, NY The Little
07.18.12 Salt Lake City, UT Tower Theatre
07.18.12 San Diego, CA Landmark Hillcrest
07.18.12 San Francisco, CA Landmark Embarcadero
07.18.12 San Francisco, CA Balboa
07.18.12 Santa Fe, NM CCA
07.18.12 Schenectady, NY Movieland 6
07.18.12 Seattle, WA Cinerama
07.18.12 Spokane, WA Magic Lantern
07.18.12 Springfield, CO Moxie
07.18.12 St. Louis, MO Landmark Tivoli
07.18.12 Stamford, CT Majestic 6
07.18.12 Tucson, AZ The Loft
07.18.12 Tulsa, OK Circle
07.18.12 Washington, DC Landmark E-Street
07.18.12 Winston-Salem, NC Aperture
--