M83, Active Child @ Lincoln Hall (late show pics/setlist/video)
photos by Zach Pollack, words by Claire O'Connor
"In my head I've basically already committed to seeing M83 at the Vic in April. LH almost seems small for his show/display/lights/stuff" - Brandon Lee
"M83 + ActiveChild + @Lincolnhall last night = AWESOME!!!" - Ra Ra Riot
M83 @ Lincoln Hall

Accompanied by a starlit backdrop, France's M83 owned the night as they packed Chicago's Lincoln Hall for two sold out shows on Thursday night (11/17). Lincoln Hall holds only 507 people, but 30-year old Anthony Gonzalez's sound is fit for an arena. It was something magical to see him fit the vast sonic, atmospheric sounds of Hurry Up, We're Dreaming in to the relatively small Chicago mainstay venue.
Before M83 hit the stage, Los Angeles' Active Child returned to Lincoln Hall to play a characteristically solid set. While on stage for only 45 minutes, Active Child ushered in the crowd with their smart tinges of soul, bits of post-dub, and celestial electronica. Singer-songwriter/harpist Pat Grossi omits powerful yet delicate choir-like vocals without error. The band championed through songs off of 2011's You Are All I See. "Hanging On", "Playing House", "Way Too Fast," and the albums title track silenced concertgoers as the weight and severity of each note sunk into their hearts.
The cover art of M83's single "Midnight City" came to life as M83's show began with an alien-like creature on stage, motioning to the crowd. The band then took the stage and welcomed the crowd with a Zola Jesus-less "Intro," followed by "Teen Angst" off of Before The Dawn Heals Us. Gonzalez and co-vocalist/keyboardist Morgan Kibby shared moments of laughter when lyrics were forgotten and jumbled a bit during the second song. "How do you say forget lyrics? ...Yeah, Fuck you Morgan," joked Gonzalez at the end of the song before quickly jumping into "Reunion."
Stuffed on the tight stage, M83 ushered in "Year One, One UFO," "We Own The Sky," and "Steve McQueen." Filling the night with new material, the crowd gyrated succinctly to each new sound and light beam that filled the room. The starry backdrop seemed to serve its real purpose during the slower "Wait," while fans erupted and danced to "Midnight City."
The encore was a true treasure as the band finished the night with "Skin Of The Night" and "Couleurs," both tracks off of Saturdays = Youth.
More pictures from Thursday's late show, the setlist, and some videos, below...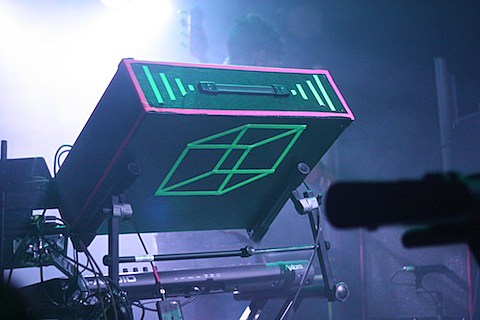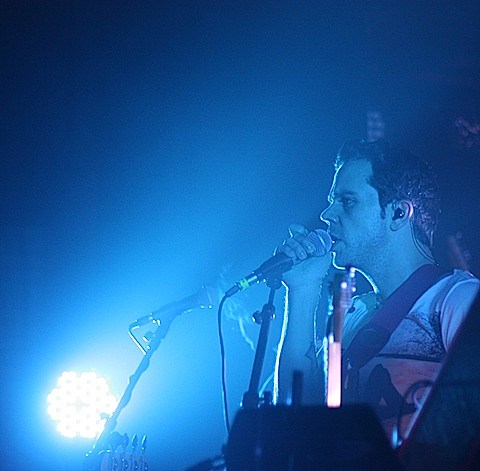 --
M83 @ Lincoln Hall (late show)

--

--
M83 - 11/17 Lincoln Hall (Late Show) Setlist:
Intro
Teen Angst
Kim & Jessie
Reunion
Year One, One UFO
We Own The Sky
Steve McQueen
Wait
This Bright Flash
Claudia Lewis
Midnight City
A Guitar And A Heart
•••••••••••••••••••••••••••••••••
Skin of the Night
Couleurs
--