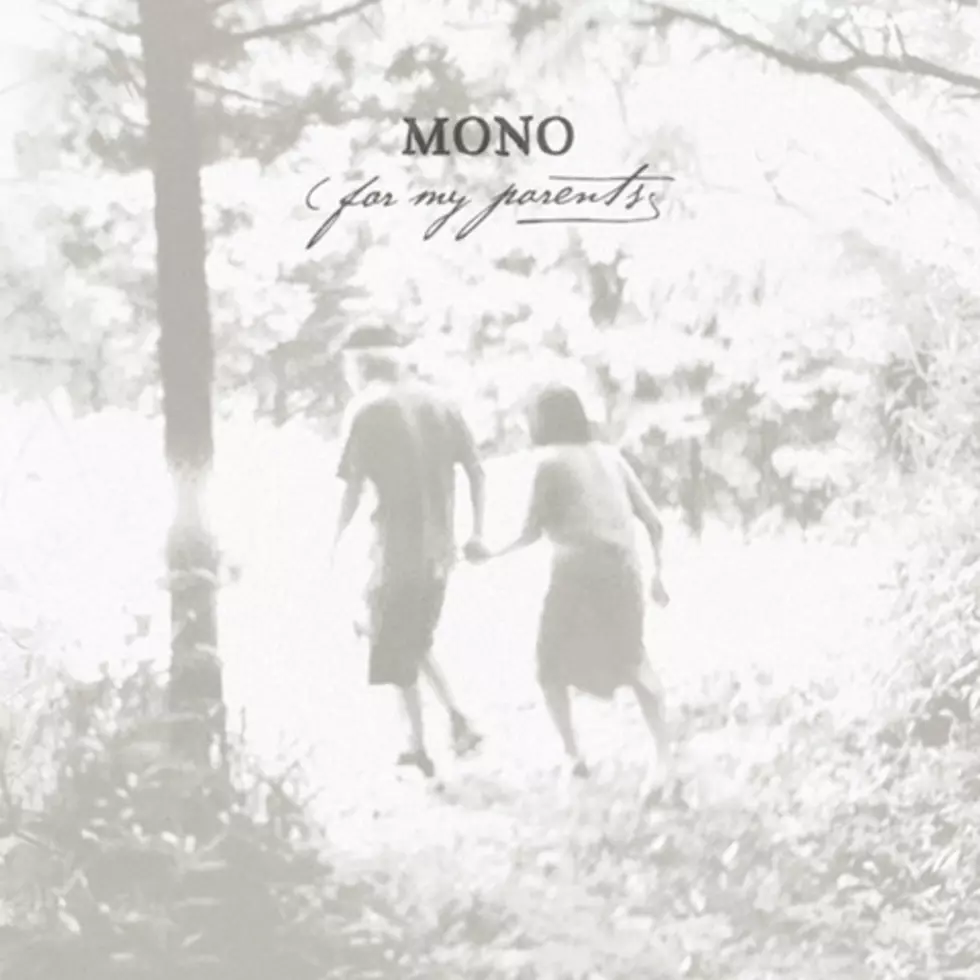 Mono welcoming 'For My Parents' (song stream), touring, playing Subterranean
Mono are gearing up for the release of their new album, For My Parents, which is due out on September 4 via Temporary Residence Limited. That's its cover art above and you can get a taste of the album by listening to its lead single "Dream Odyssey" at the bottom of this post. For My Parents is their first record in eight years to not be recorded by Steve Albini at Electrical Audio. Instead, the band recorded at Waterfront Studios in Hudson, New York with engineers Henry Hirsch and Fred Weaver, along with the Wordless Music Orchestra (who they began collaborating with for 2009's Hymn to the Immortal Wind).
Mono head out on an international tour next month in support of the LP, which will reach Chicago's Subterranean on September 21. Tickets go on sale this Saturday (7/28) at 10AM CST.
All Mono dates, a stream of their new single, and a trailer for All My Parents below...

--
Mono - For My Parents Album Trailer #1

--
MONO - 2012 TOUR DATES
Aug, 15 Yugong Yishan - Beijing China
Aug, 17 Mao Livehouse - Shanghai China
Aug, 18 East District Music Park - Chengdu China
Aug, 20 Vox - Wuhan China
Aug, 22 T-Union - Guangzhou China
Aug, 23 Hidden Agenda - Hong Kong Hong Kong
Aug, 24 The Wall - Taipei Taiwan
Aug, 25 The Wall - Kaohsiung Taiwan
Aug, 26 Sang Sang Madang - Seoul South Korea
Aug, 31 LiquidRoom - Tokyo Japan
Sep, 07 Shangri-La - OsakaJapan
Sep, 11 Mr. Smalls Theatre - Pittsburgh, PA USA
Sep, 12 Legendary Horseshoe Tavern - Toronto, ON Canada
Sep, 13 Il Motore - Montreal, QC Canada
Sep, 14 Le Poisson Rouge - New York, NY USA
Sep, 15 Glasslands - Brooklyn, NY USA
Sep, 16 Brighton Music Hall - Boston, MA USA
Sep, 17 Soundlab - Buffalo, NY USA
Sep, 18 Now That's Class - Cleveland, OH USA
Sep, 19 Ace Of Cups - Columbus, OH USA
Sep, 20 The Bishop - Bloomington, IN USA
Sep, 21 Subterranean - Chicago, IL USA
Sep, 22 7th Street Entry - Minneapolis, MN USA
Sep, 23 Gabe's - Iowa City, IA USA
Sep, 25 Waiting Room - Omaha, NE USA
Sep, 26 The Riot Room - Kansas City, MO USA
Sep, 27 Larimer Lounge - Denver, CO USA
Sep, 28 Urban Lounge - Salt Lake City, UT USA
Sep, 29 Neurolux - Boise, ID USA
Oct, 01 The Media Club - Vancouver, BC Canada
Oct, 02 The Crocodile - Seattle, WA USA
Oct, 03 Misssissippi Studios - Portland, OR USA
Oct, 05 Rickshaw Stop - San Francisco, CA USA
Oct, 06 Bootleg Bar - Los Angeles, CA USA
Oct, 08 Casbah - San Diego, CA USA
Oct, 09 Rhythm Room - Phoenix, AZ USA
Oct, 10 Launch Pad - Albuquerque, NM USA
Oct, 11 Lowbrow Place - El Paso, TX USA
Oct, 12 Son Of Hermann Hall - Dallas, TX USA
Oct, 13 The Mohawk - Austin, TX USA
Oct, 14 Fitzgerald's - Houston, TX USA
Oct, 15 Spanish Moon - Baton Rouge, LA USA
Oct, 17 Crowbar - Tampa, FL USA
Oct, 18 The Social - Orlando, FL USA
Oct, 19 Jack Rabbits - Jacksonville, FL USA
Oct, 20 Bottletree - Birmingham, AL USA
Oct, 21 Masquerade (Purgatory Stage) - Atlanta, GA USA
Oct, 23 Local 506 - Chapel Hill, NC USA
Oct, 25 Rock N Roll Hotel - Washington, DC USA
Oct, 26 The Space - Hamden, CT USA
Oct, 27 Kung Fu Necktie - Philadelphia, PA USA
--