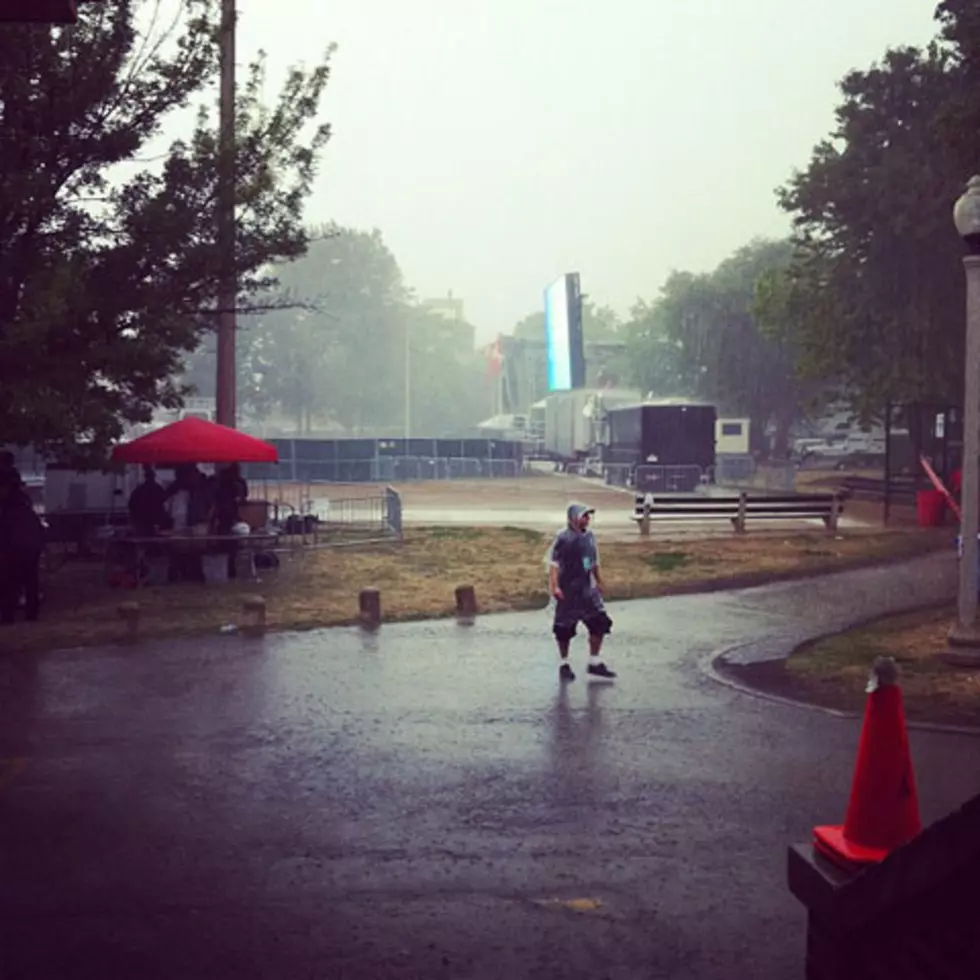 Pitchfork Fest getting off to a rainy start (doors at 3pm)
"The storm during the storm" (Jacob Daneman)

SPECIAL WEATHER STATEMENT...
AT 151 PM... NATIONAL WEATHER SERVICE DOPPLER RADAR INDICATED STRONG THUNDERSTORMS ALONG A LINE EXTENDING FROM ROUND LAKE PARK AND HIGHLAND PARK TO BOLINGBROOK... MOVING NORTHEAST AT 15 MPH.
WINDS GREATER THAN 40 MPH... FREQUENT CLOUD TO GROUND LIGHTNING... BRIEF HEAVY DOWNPOURS... ARE POSSIBLE WITH THESE STORMS.
CITIES AND TOWNS AFFECTED... HODGKINS... BROOKFIELD... MAYWOOD... GLENVIEW... HIGHLAND PARK... LA GRANGE... COUNTRYSIDE... PARK RIDGE... MELROSE PARK...
THIS ALSO INCLUDES THE CITY OF CHICAGO.
OTHER LOCATIONS AFFECTED... ARGONNE NATIONAL LABORATORY... BENEDICTINE UNIVERSITY... BROOKFIELD ZOO... CHAIN O LAKES STATE PARK... COLLEGE OF DUPAGE... COLLEGE OF LAKE COUNTY... DOWNTOWN CHICAGO.
PRECAUTIONARY/PREPAREDNESS ACTIONS...
GUSTY WINDS MAY CAUSE SMALL OBJECTS SUCH AS TRASH BINS TO BLOW AROUND. STAY AWAY FROM HIGH OBJECTS OUTDOORS SUCH AS TREES. HEAVY RAINFALL COULD LEAD TO STANDING WATER ON ROADWAYS AND POOR VISIBILITY. SEEK SHELTER IN A STURDY STRUCTURE UNTIL THESE STORMS HAVE PASSED.
Watch out for blowing trash bins, and hopefully it does in fact pass before gates open at 3pm. Outer Minds are the first band scheduled to play at 3:20. Lower Dens start streaming at 3:30.
UPDATE: Gates pushed back to 3:30.