Raw Nerve played their final shows (pics/video from both)
photos by Carmelo Espanola, words by BBG
Raw Nerve @ Mousetrap

Chicago hardcore band Raw Nerve are done. They've released their final 3-song EP and completed a round of final dates that included a stop in NYC for an Easter show at 538 Johnson and a pair of Chicago shows: Subterranean on 4/13 (with Ceremony, The Ropes and Divine Right) and Mousetrap on 4/14 (with Culo, Manipulation, Vile Gash, and SQRM). A full set of pictures/video from Mousetrap is in this post, along with some video from Subterranean.
Youth Attack, home of Raw Nerve, The Ropes, SQRM, Divine Right and many others, recently repressed the highly reccomended EP from The Ropes, as well as Vile Gash's Deluded and Raw Nerve's last EP Midnight (also a favorite). Get them at Youth Attack where you'll also (eventually) find Raw Nerve's final Every Problem Solved EP.
So far no other Chicago dates to speak of for Ceremony, though the band does have a gaping hole in June in and around Cleveland and Minneapolis. We'll keep you informed, but we do know they will be at Chaos in Tejas this year as well as play NYC on their own and with Refused.
Pics & video from the Raw Nerve shows, below...

--
Ceremony - He-god-Has Favored Our Undertakings @ Subterranean, 4/13/12

The Ropes @ Subterranean 4/13/2012

Culo
Manipulation
Vile Gash
Vile Gash. Chicago 4/14/2012

SQRM
Raw Nerve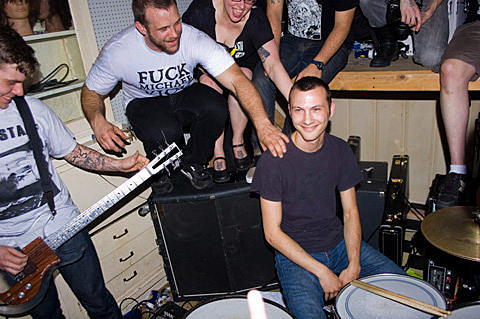 Last Raw Nerve set. Chicago 4/14/2012

CEREMONY - 2012 TOUR DATES
Apr 20 DEMOCRACY CENTER - BOSTON, MA
Apr 21 THE BARBARY - PHILADELPHIA, PA
Apr 22 RAS HALL - WASHINGTON, DC
Apr 23 TERMINAL 5 - NEW YORK, NY
Apr 23 MERCURY LOUNGE - NEW YORK, NYApr 23
May 27 THE NEW PARISH - OAKLAND, CA
May 28 VELVET JONES - SANTA BARBARA, CA
May 29 RHYTHM ROOM - PHOENIX, AZ
May 30 LAUNCHPAD - ALBUQUERQUE, NM
May 31 CONSERVATORY - OKLAHOMA CITY, OK
Jun 1 BEAUTY BALLROOM - AUSTIN, TX
Jun 3 MOHAWK - AUSTIN, TX
Jun 5 THE BACKYARD - GAINESVILLE, FL
Jun 6 BACKBOOTH - ORLANDO, FL
Jun 7 DRUNKEN UNICORN - ATLANTA, GA
Jun 9 ST. STEPHENS CHURCH - WASHINGTON, DC
Jun 11 REDWOOD ART SPACE - WILKES-BARRE, PA
Jun 13 THE SPACE - HAMDEN, CT
Jun 17 GROG SHOP - CLEVELAND, OH
Jun 19 7TH STREET ENTRY - MINNEAPOLIS, MN
Jun 20 SOKOL UNDERGROUND - OMAHA, NE
Jun 21 MARQUIS THEATER - DENVER, CO