Recess Records 25th anniversary tour (hitting Township) + Red Scare 10th anniversary show at Metro + Dwarves LP stream
Underground Railroad to Candyland at Chaos in Tejas 2011 (more by Harriet Roberts)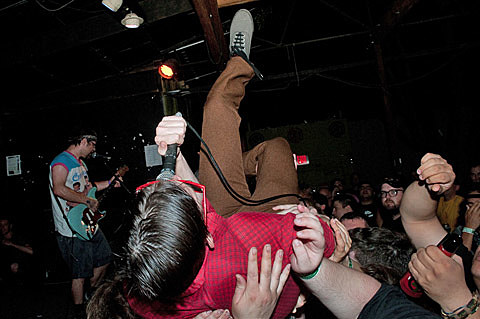 Classic punk label Recess Records will celebrate its 25th anniversary with a tour this year. Bands playing stops on the tour include Underground Railroad to Candyland (which label founder Todd Congelliere plays in), Lenguas Largas, Treasure Fleet (mems Smoking Popes, Lawrence Arms), White Night and many more. Lenguas Largas are the only band playing every stop, with the rest of the lineup shifting with each show. The tour comes to Chicago on August 23 at Township Treasure Fleet, Lenguas Largas, White Night and Two Houses. Tickets for that show are on sale now. All dates are listed below.
Recess (and Greedy Records) is also putting out The Dwarves Invented Rock 'n' Roll, the new record from The Dwarves, next week (8/5). You can stream that in full at Punk News.
In other punk label anniversary news, Red Scare is celebrating its 10th anniversary here in Chicago too (the label's hometown). The show is set for October 25 at Metro with performances from The Reaganomics, The Falcon (mem The Lawrence Arms), Teenage Bottlerocket, Masked Intruder, The Lillingtons (another rare reunion date), Direct Hit!, The Methadones, Elway, The Brokedowns and more TBA. Tickets for that show are on sale now.
All Recess Records tour dates are listed, with a stream of a the label's latest sampler, and a Lillingtons stream, below...

---
Recess Records 25th Anniversary Tour Dates
8/8 - San Diego - Til Two Bar w/ URTC, Lenguas Largas, Treasure Fleet, Blank Pages(germany), and Swing Ding Amigos
8/9 - Santa Monica - Almost Holden Collective w/The Bananas, URTC, Audacity, Swing Ding Amigos, Lenguas Largas, Treasure Fleet, White Night, DJ Jonah Ray
8/10 - Oakland - Eli's Mile High Club w/the Bananas, Fleshies, URTC, Swing Ding Amigos, Lenguas Largas, Treasure Fleet, White Night
8/11 - San Francisco - the Elbo Room w/URTC, Lenguas Largas, Treasure Fleet, White Night, Pins of Light
8/12 - Portland, OR - The Know w/URTC, Lenguas Largas, Treasure Fleet, White Night
8/13 - Longview, WA - Chinese Garden w/URTC,Lenguas Largas, Treasure Fleet, White Night
8/14 - Seattle - Black Lodge w/URTC,Lenguas Largas, Treasure Fleet, White Night
8/15 + 16 - Missoula - Total Fest w/Lenguas Largas, Treasure Fleet, White Night
8/17 - Boise, ID - the Shredder w/ URTC,Lenguas Largas, Treasure Fleet, White Night
8/18 - SLC - the Shred Shed w/Lenguas Largas, Treasure Fleet, White Night
8/19 - Denver, CO - Rhinoceropolis w/Lenguas Largas, Treasure Fleet, White Night
8/20 - Lawrence, KS - Replay Lounge w/Lenguas Largas, Treasure Fleet, White Night
8/21 - Minneapolis, MN - tba w/Lenguas Largas, Treasure Fleet, White Night
8/22 - Milwaukee, WI - Center St Free Space w/Lenguas Largas, Treasure Fleet, White Night
8/23 - Chicago - Township w/Lenguas Largas, Treasure Fleet, White Night
8/24 - Bloomington, IN - House Party at 514 S. Washington w/Lenguas Largas, White Night
8/25 - Chattanooga, TN - Sluggos w/Lenguas Largas, White Night
8/26 - Huntsville, AL - Lowe Mill w/Lenguas Largas, White Night
8/27 - Nashville, TN - Cafe Coco w/Lenguas Largas, White Night
8/28 - NOLA - Saturn Bar w/Lenguas Largas, White Night
8/29 - Memphis - Hi-Tone w/Lenguas Largas, White Night
8/30 - Austin, TX - Beerland w/Lenguas Largas, White Night
8/31 - El Paso, TX - The Monarch w/Lenguas Largas, White Night
9/1 - Tuscon, AZ - Club Congress w/Lenguas Largas, White Night