Riot Fest issue statement regarding Humboldt Park restoration
rainy Day 1 of Riot Fest Chicago (more by James Richards IV)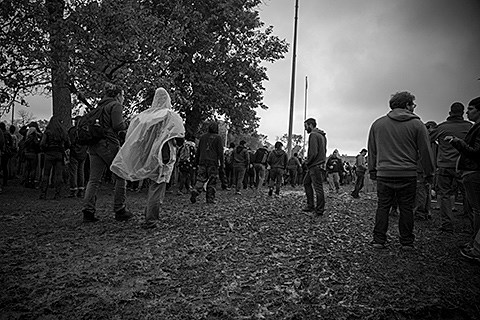 Due to a rainy day 1 of Riot Fest Chicago, Humboldt Park isn't in the best shape after the three-day festival. Much like other Chicago festivals do, Riot Fest made an agreement with the Chicago Park District to restore the park following the fest. They've now issued a statement regarding the restoration.
Riot Fest founder Michael Petryshyn said:

"Riot Fest is grateful to the City of Chicago and specifically the residents and businesses of Humboldt Park. The Park is really the star of Riot Fest, and we know it is the key reason why it makes the community one of the best in the City. And, I speak from experience, I live just steps away from the Park, and enjoy it almost daily.
Because the Park is as important to me as it is to the City, we will make certain that the Park be restored as soon as possible. Indeed, not only do we want the park restored, we want it improved. I have directed our staff to initiate meetings with the Park District on how we can partner with them to make permanent infrastructure improvements over the coming months. We want to improve the Park, because we want to make it the permanent home of Riot Fest. We don't take our commitment to the community and the park for granted.
If Riot Fest, alongside the Chicago Park District, can rehabilitate the park to the needed standards (beyond reseeding and aeration), the entirety of the 26th and surrounding wards -- it's residents and businesses -- only stand to benefit. And, that's what we want. Make no doubt about it: as a resident of Humboldt Park, I want to be the leader in making Humboldt Park Chicago's best and most modern natural resource. And, I know I can."