Sigur Ros' 'INNI' to be shown twice @ Lincoln Hall by CIMM
Jonsi @ Hammerstein Ballroom in November of 2010 (more by Vincent Cornelli)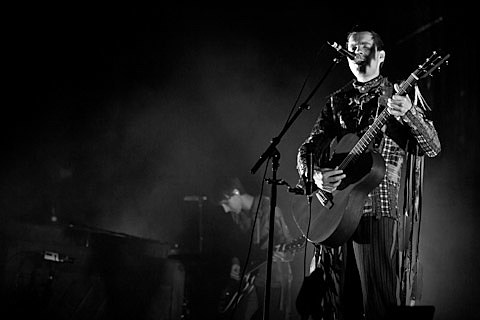 Lets start by quoting a Brooklynvegan post from about a month back:

...speaking of Sigur Rós, they recently put a trailer video on their website for the film INNI, which will screen at the Venice Film Festival. The film was directed by Vincent Morisset, who also directed the Arcade Fire film Mirror Noir. Sigur Ros frontman Jonsi is also set to score Cameron Crowe's upcoming film We Bought a Zoo. Cameron and Sigur Ros last worked together when the band contributed music to his 2001 film Vanilla Sky.
INNI is not only a 75-minute film, but is also a double-live album all recorded during the band's last show at London's Alexandra Palace. Marked for a November 15th release, you'll be able to grab thisin a variety of formats (listed below).
Chicago's CIMM (Chicago International Movies & Music), who have their own Fest coming up in April, have joined with Lincoln Hall for an early and late showing on November 15th. Tickets just recently went on sale.
Head below for some clips from the film.

--

--
- Double CD + DVD (includes 4 extra songs not featured on the live album)
- Double CD + Blu Ray (includes 4 extra songs not featured on the live album)
- Clear 150 gram vinyl (3 LPs)
- Digital edition
- Deluxe edition
--
FORMATS:
1/ Standard CD/DVD Edition - http://amzn.com/B005ML1VPK
- 1 x DVD - 75 min. full HD feature in 5.1 Dolby Audio, NTSC format + 4 bonus performances
- 2 x CD - Double live album
2/ Blu-Ray/CD Edition - http://amzn.com/B005ML1W4K
- 1 x Blu-Ray Disc - 75 min. HD feature in 5.1 Dolby Audio, NTSC format, + 4 bonus performances
- 2 x CD - Double live album
3/ Triple Vinyl/DVD Edition - http://amzn.com/B005ML1VT6
- CLEAR VINYL LIMITED TO 3000 COPIES!
- 3 x 150g audiophile quality vinyl with printed inner sleeves housed within a single outer jacket made from heavyweight board
- Digital download code for double live album
- 1 x DVD - 75 min. HD feature in 5.1 Dolby Audio + 4 bonus performances
4/ Digital Edition
- film version = 75 min. full HD feature in 5.1 Dolby Audio
- audio version = 15 track, double live album
5/ The Limited Special Edition - Exclusive to sigur-ros.co.uk
This edition is packaged in a 7" x 7" x 1" box, printed inside and containing;
- An exclusive and unique-to-each-box artefact from the show itself in a numbered, printed envelope
- One-sided 7" coloured vinyl with unreleased track "Lúppulagid", with etching on reverse.
- 1 x DVD - 75 min. HD feature in 5.1 Dolby Audio + 4 bonus performances. (box will include both NTSC and PAL formats) (track listing link)
- DVD exclusive 5 minute short "Klippa"
- 2 x CD - Double live album
- All discs are housed in a printed 7" sized 4 panel slitpack
- Black opaque envelope with 10 pieces of A5 light sensitive paper with instructions and special url for posting your homemade images to the sigur-ros.co.uk website
- 4 x 7" sized photographic prints
- Enamel "INNI" pin badge
--