The National & Daughter played The Chicago Theatre (night 1 pics, review, setlist)
Jeffery Ryan
The National at The Chicago Theatre on 04.15.2014

In hindsight, not all that many gave the then tiny New York transplants The National the time of day until a handful of years past their formation in 1999. Beginning with their 2003 breakthrough Sad Songs for Dirty Lovers and continuing through last year's wildly successful Trouble Will Find Me, The National have slowly grown into a true indie rock institution. That institution happen to be in Chicago this week for a four-night run of shows at The Chicago Theatre -- all sold-out -- as part of a spring North American tour. Last night (Tuesday, April 15) marked their first of four appearances at the famed venue.
Matt Berninger and co. quickly got situated and began their twenty-some-odd-song set with TWFM's "Don't Swallow the Cap" and "I Should Live in Salt." At that point, it was a bit hard to tell if Berninger was burdened or pleased by the fact that he was on stage, as he paced around in an angular fashion. After a couple of High Violet tunes, he appeared to have settled in, and let out some triumphant screams during "Sea of Love." He's an often unpredictable, charismatic performer, who rushed throughout the audience, broke at least one mic stand, and smashed a couple of wine bottles during last night's show. Oh, and he sings too, which is something you couldn't possibly block out. Berninger's deep baritone voice echoed throughout the theatre as he delivered lines like "'Cause I'm evil" ("Conversation 16"), "This isn't working, you, my middlebrow fuck-up" ("Squalor Victoria"), and "You turn me good and God-fearing / Well, tell me what am I supposed to do with that?" ("Abel"). About half-way through Boxer's "Ada," the band's horn section worked in a bit of pal Sufjan Stevens' "Chicago" as a crafty turnaround. The National ended their set with "Fake Empire" and returned for a four-song encore -- a great cover of Perfume Genius' "Learning," "Mr. November," "Terrible Love," and last but not least a totally acoustic rendition of "Vanderlyle Crybaby Geeks." It should be said that instead of this four-night run, The National could have opted for a giant stadium show. They're very thankfully just not that band (and I hope never become it). Berninger and co. continue their Chicago Theatre run tonight (4/16) through Friday (4/18).
Last night's show, and much of their spring North American tour, includes great support from London trio Daughter. Namesake Elena Tonra and her band performed songs from their debut LP If You Leave and also re-imagined tunes from their early EPs.
More pictures from The National's 4/15 Chicago Theatre show and their full setlist lie after the jump...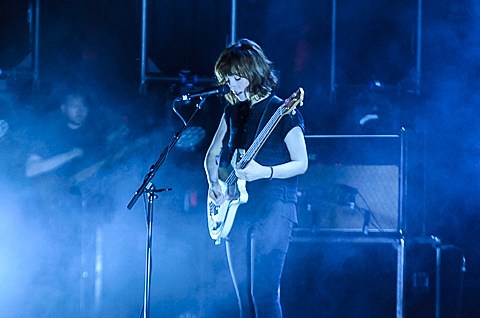 The National -- 4/15 Chicago Theatre Setlist:
Don't Swallow the Cap
I Should Live in Salt
Sorrow
Bloodbuzz Ohio
Sea of Love
Hard to Find
Squalor Victoria
Afraid of Everyone
Conversation 16
I Need My Girl
This Is the Last Time
Ada w/ "Chicago" by Sufjan Stevens as outro
Lemonworld
Abel
Slow Show
Pink Rabbits
England
Graceless
About Today
Fake Empire
••••••••••••
Learning (Perfume Genius cover)
Mr. November
Terrible Love
Vanderlyle Crybaby Geeks (acoustic)