The National, Local Natives, & Wye Oak @ Aragon Ballroom (pics, review, setlist)
On Tuesday night (12/6), The National headlined Chicago's Aragon Ballroom with tour-mates Local Natives and Wye Oak.
First of three, Wye Oak kicked things off with a Civilian-heavy set while most of the concert's attendees started to file in. This was by far the biggest venue I've seen them play, and something I could definitely get used to. Singer Jenn Wasner's voice wafted throughout the space as she and partner-in-crime Andy Stack continued to skillfully play on. Congrats to Wye Oak on landing the top spot on AV Club's 'Best of 2011' list.
Local Natives were up next, taking the stage for their final set on this tour. "We were supposed to be hibernating in sunny LA working on recording a new record," said frontman Taylor Rice. After a long pause he finished with, "...but we heard the calling of The National!" They played two brand new songs (the same two Tim heard in Austin on 12/4), which both received warm responses from the crowd. As always, the band sounded impecable live, shedding new light on the songs from their 2010 debut, Gorilla Manor.
Around 8:45PM, Brooklyn's The National began their 90-minute set with the High Violet track "Runaway." Save for a "thank you" here and there in-between songs, frontman Matt Berninger didn't address the crowd much (he hadn't had his fill of white wine yet). This picked up with the high energy track "Squalor Victoria," which saw Matt thrashing about the stage. Currently on their last run of High Violet shows, the band sounded full and practiced, though a bit tired if anything. This by all means didn't color the show lackluster, and the sold out Aragon Ballroom crowd seemed to agree; swaying back and forth approvingly. With auxiliary members Kyle Resnick and David Nelson handling trumpet and trombone duties, horn-heavy songs like "Conversation 16," "England," and "Fake Empire" translated extremely well live.
Exiting the stage shortly after playing "Empire," the band then retured for a four-song encore. The show's closing number "Vanderlyle Crybaby Geeks," makes for one of my all-time-favorite National moments. Joined by Wye Oak and Local Natives, the Dessner brothers traded their electric guitars for acoustics, and all on-stage belted out the song with no microphones (the crowd did too) at the top of their lungs.
More pictures from the Aragon Ballroom show, and their setlist, below..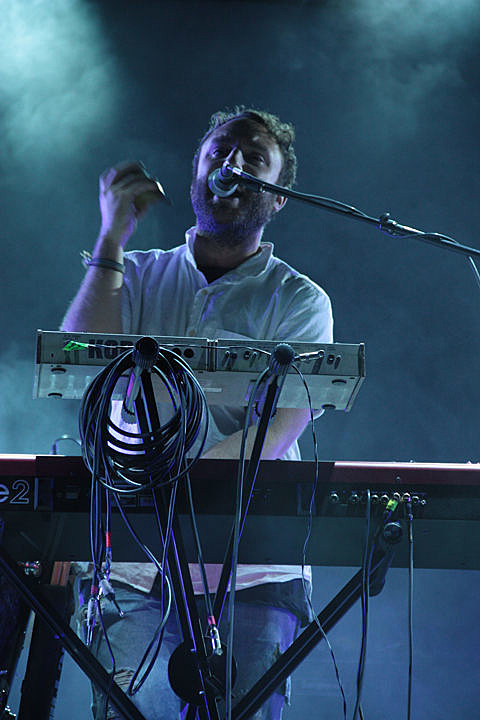 --
The National - 12/6 Aragon Ballroom Setlist:
Runaway
Anyone's Ghost
Mistaken For Strangers
Baby We'll Be Fine
Blood Buzz Ohio
Squalor Victoria
Afraid of Everyone
Conversation 16
Son
Geese of Beverly Road
Sorrow
Abel
Murder Me Rachael
Green Gloves
England
Fake Empire
•••••••••••••••••••••••••••••••••••••
About Today
Mr. November
Terrible Love
Vanderlyle Crybaby Geeks
--