The Thermals, Heliotropes, and Aye Nako played Ultra Lounge (pics, videos, setlist)
Jeffery Ryan
The Thermals // Heliotropes // Aye Nako at Ultra Lounge on 8.01.2013

Our takeover of the relatively tiny Ultra Lounge continued on Friday night (8/2) with a free show featuring The Thermals, Heliotropes, and Aye Nako. It was a super fun, rowdy punk show possibly made even more rowdy by the loads of free beer available, courtesy of our friends Sapporo. There was a healthy-sized push pit during Thermals' 18-song set, which consisted of tunes from each of their six studio albums. Folks went especially nuts for "An Ear for Baby," "I Don't Believe You," "The Sunset," and "Here's Your Future." We've got pictures, The Thermals' full setlist, and a few videos in this post.
Thanks to everyone that came out to Ultra Lounge! Our pictures // videos from the 8/2 show at UL lie below...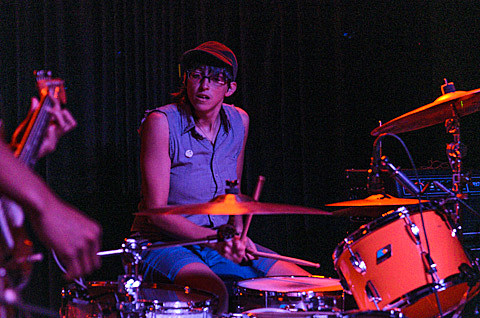 The Thermals at Ultra Lounge 1-3

The Thermals at Ultra Lounge 2-3

The Thermals at Ultra Lounge 3-3

The Thermals -- 8/2 Ultra Lounge Setlist:
Where I Stand
Returning to the Fold
It's Trivia
Born to Kill
I Might Need You to Kill
An Ear for Baby
How We Know
Faces Stay with Me
The Howl of the Winds
I Don't Believe You
We Were Sick
The Sunset
Back to Gray
St. Rosa and the Swallows
A Pillar of Salt
Now We Can See
Here's Your Future
Overgrown, Overblown!