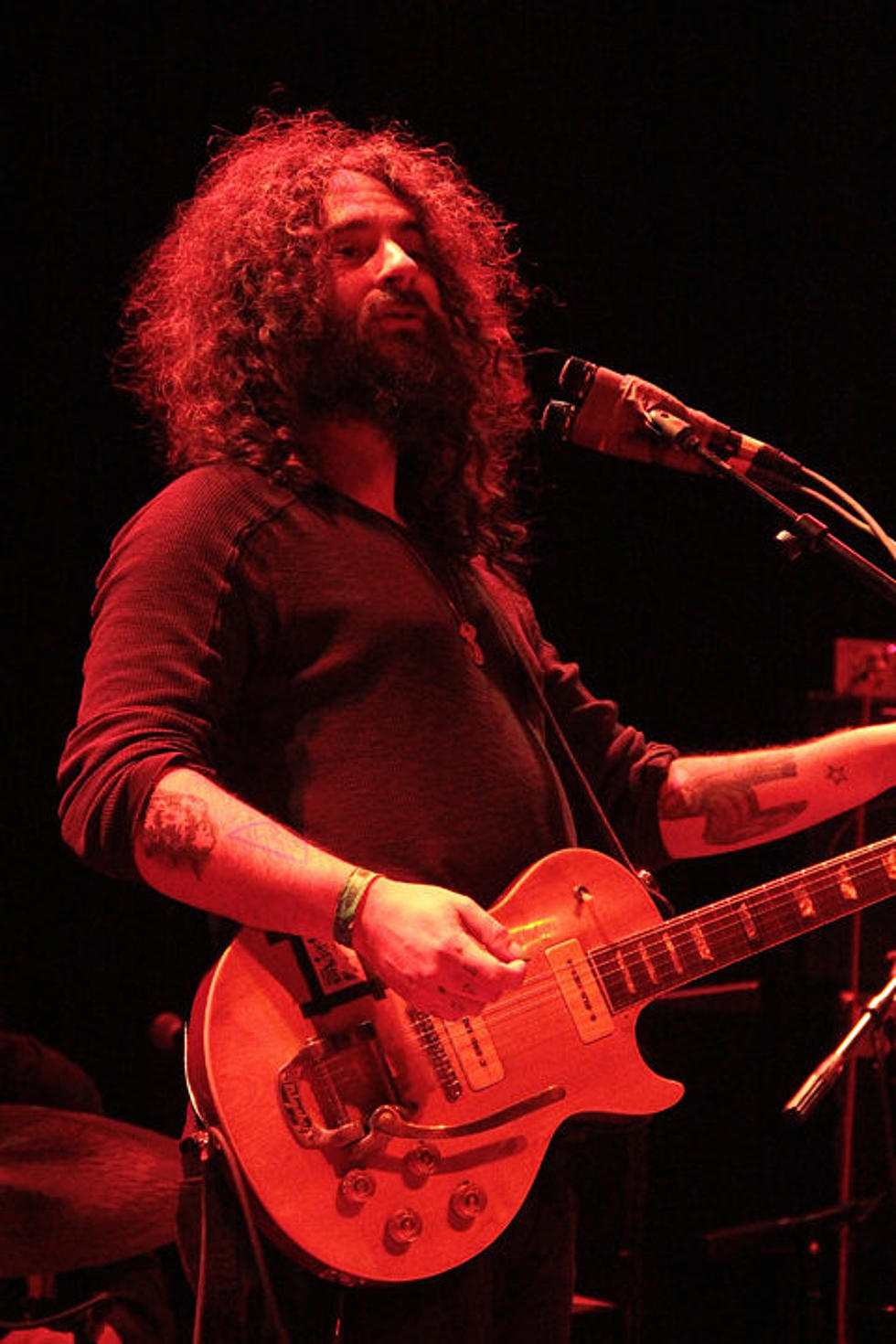 Thee Silver Mt. Zion Memorial Orchestra played Lincoln Hall (pics, review, setlist & more tour dates)
Thee Silver Mt. Zion Memorial Orchestra @ Lincoln Hall on 1/28/2012

To Destroy A City opened the show at Lincoln Hall on Saturday (1/28), with their post-rock influenced compositions, which include electronic drumbeats and synthesizers. We weren't able to catch their set, but you can listen to the band below.
When Thee Silver Mt. Zion Memorial Orchestra took the stage, guitarist and vocalist Efrim Menuck said that he hadn't been feeling well before the show ("feverish" to be exact). He laughed as he explained that when he went outside to have a cigarette, he glanced up just in time to catch a surreal freeze frame of people sucking lemons after drinking shots on a passing trolley-styled party bus. Welcome to Lincoln Park, Efrim.
They began with the second-ever performance of "Take Away These Early Grave Blues," which they wrote the week before. As with most Silver Mt. Zion songs, much of the band sang, but violinist Jessica Moss stood out on this one with her blues-punk snarl. The whole band repetitively chugged on their own variations of the main riff, eventually speeding up a bit while the drums built to a lively roll. It hit a breaking point and turned into a drone, characterized by distorted bass.
When the song ended, Menuck mentioned that Southeast Chicago and Northwest Indiana look like "the third ring of hell" from the highway, and when they were in Gary they didn't see any people. Someone from Gary yelled that you'd be lucky to see anyone, and asked if the band liked the smell of the town. Menuck said they didn't open the windows, but suggested it may have smelled as terrible as patchouli. Someone wearing patchouli apologized, and Menuck said, "It's okay man, it's your life."
Menuck began singing "BlindBlindBlind" softly and meekly, building into an almost cockney accent. Thierry Amar plucked a double bass while the violinists bowed smoothly. Drummer David Payant joined in on organ, which sounds like it could have been taken from one of the churches they've performed at. The smoothness in the acoustic strings turned to short plucked notes. Menuck stood a couple feet back from the mic, but was still heard loud and clear due to the band's lower volume and Lincoln Hall's good acoustics. As they melodically traveled up a continuous scale, they got louder and Menuck's guitar turned to that extreme yet natural sounding distortion that is common in post-rock (not to pin them in this category). Violinist Sophie Trudeau sang and screamed joyously. None of them sing "perfectly," but they all have unique voices that hit an emotional spot. The slight discord of their group vocals is pleasant with a lot of humanity in it, especially combined with lyrics like "some hearts are true."
Silver Mt. Zion wanted to hear some jokes and answer the audience's questions, so someone asked, "Have you heard the news about corduroy pillows?" No one seemed to have, so Menuck asked him what the news was. "They're making headlines!" he yelled enthusiastically, drawing laughter from everyone. Another person asked for any song from a specific (unintelligible) album, and Menuck said, "Oh, I got this one. We were stapled to the chicken."
"13 Blues for Thirteen Moons" began with droning strings and tribal drums that pounded in an irregular timing. Amar's hand moved down and up the neck of his double bass, tastefully providing most of the melody. It felt like the soundtrack to a drive in a foreign country, accelerating from its initially slow rate. There was a drum break in which the beat got fat, just for a minute, ending with three bass drum hits in a very bluesy fashion before falling back into a slinking beat. They sang the socio-political lyrics passionately as the dynamics grew, and the instruments got into a headbanging riff.
The Q&A sessions continued through the rest of the show. Someone asked, "When is the world going to end?" Menuck said, "Never," which drew the reaction, "That's deep!" After "Horses in the Sky," a woman said, "I love you man, but is there a song where the ladies lead?" Menuck responded, "I love you too man..." and shamefully admitted there wasn't one, but there should be. There were several musicians in the audience who wanted to know about their equipment, and Menuck quipped that it wasn't Guitar World magazine or Guitar Center (the latter of which is right around the corner from Lincoln Hall on Halsted). Another person asked what part of Wisconsin they were from, and Menuck said, "the Canadian part of Wisconsin, and we'll destroy you someday! We've got our tractors and combines lined up."
Before the beautiful performance of "God Bless Our Dead Marines," Menuck commented that we were a rather positive crowd, which is rare these days because the Internet "jades the young too early" and "cements their opinions." Think about that long and hard, BV commenters...
More pictures and the setlist from the show with more tour dates, and some songs by the opener, below...


--
Thee Silver Mt. Zion Memorial Orchestra - 1/28 Lincoln Hall Set List:
Take Away These Early Grave Blues
BlindBlindBlind
13 Blues for Thirteen Moons
There is a Light
Horses in the Sky
The State Itself Did Not Agree
God Bless Our Dead Marines
--
To Destroy A City - "Metaphor (m.szarejko cut)"

--
To Destroy A City - "Philosophy Of A Knife"

--
Thee Silver Mt Zion -- 2012 Tour Dates
31.01.12 Calgary, CAN The Republik
02.02.12 Vancouver, CAN The Rickshaw Theatre
03.02.12 Seattle, USA The Crocodile
04.02.12 Portland, USA Mississippi Studios
06.02.12 San Francisco, USA Great American Music Hall
07.02.12 Santa Ana, CA, USA Constellation Room
08.02.12 Los Angeles, USA Troubadour
09.02.12 San Diego, USA Casbah
10.02.12 Tucson, USA Club Congress
12.02.12 Dallas, USA Sons of Hermann Hall
13.02.12 Austin, USA The Mohawk
14.02.12 New Orleans, USA One Eyed Jacks
15.02.12 Birmingham, USA Bottletree
16.02.12 Cincinnati, USA MOTR Pub
17.02.12 Buffalo, USA Soundlab
18.02.12 Ottawa, CAN First Baptist Church
19.02.12 Montreal, CAN La Tulipe