Tig Notaro to release 'Good One', performing @ the Viaduct Theater +++ other 2011 tour dates
Tig Notaro @ Bonnaroo 2011 (more by Dana (Distortion) Yavin)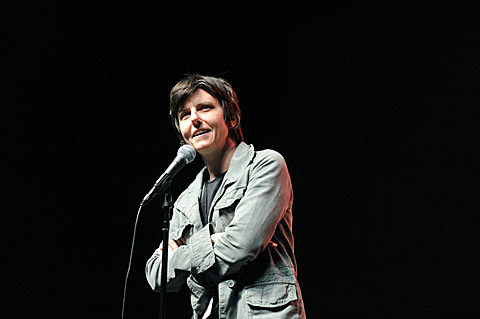 Comedian Tig Notaro is set to release her debut LP Good One on August 2nd via Secretly Canadian.
"...She is the first and only comedian we've had the good fortunte to work with. Good One contains well crafted and silly material touching on subjects such as her family tree, Mexican hotel door signs, birthing a dinosaur, and how Taylor Dayne is the easiest person in the world to run into, amongst other things."
Download a segment titled "Can You Believe It" from Good One at the top of this post. Pre-order the LP now, and receive digital files starting tomorrow (7/19).
Tig will head out on an 18-night tour, kicking off on August 14th at the Viaduct Theater.
Tickets have not been posted as of yet, but we'll link you the second they are.
You can view all 2011 tour dates, and Good One's tracklisting below..

--


01. Introduction
02. Chastity
03. Popular Phrases
04. Names
05. Family Tree
06. Can You Believe It
07. Baby Shower
08. Artificial Insemination
09. No Moleste
10. Little Titties
11. Taylor Dayne
12. Self Defense/Shark Attack
13. Infinity FX
14. The Show's Over
--
TIG NOTARO - 2011 TOUR DATES
08/14/11 Chicago, IL - Viaduct Theater
08/15/11 Pontiac, MI - The Pike Room at the Crofoot
08/16/11 Toronto, ON - Comedy Bar
08/17/11 Montreal, QC - La Sala Rossa
08/18/11 New Haven, CT - Cafe Nine
08/20/11 Brooklyn, NY - Knitting Factory
08/23/11 Raleigh, NC - Kings Barcade
08/24/11 Charleston, SC - Tin Roof
08/25/11 Athens, GA - Caledonia Lounge
08/29/11 Austin, TX - Alamo Drafthouse Cinema - The Ritz
08/30/11 Dallas, TX - Kessler Theater
08/31/11 Norman, OK - Opolis
09/01/11 Kansas City, MO - Press Bar - Crosstown Station
09/02/11 Omaha, NE - The Sydney
09/03/11 St. Louis, MO - Firebird
09/05/11 St. Paul, MN - Turf Club
09/28/11 Portland, OR - Mississippi Studios
09/29/11 San Francisco, CA - Hemlock Tavern
--