Tobacco, CAVE, Oscillator Bug & Jamaican Queens played the Logan Square Auditorium (pics)
Tobacco at the Logan Square Auditorium on 06.28.2013

The Auditorium, which was recently remodeled and given a fresh coat of paint, wasn't quite crowded until local krautrock favorites CAVE took the stage. Jamaican Queens and Oscillator Bug, who recently toured with BMSR, were great though. Tobacco was accompanied by Black Moth Super Rainbow live member Maux Boyle (aka The Seven Fields of Aphelion). The pair were obstructed by an intense LED Tobacco logo and various videos from the man himself // BMSR, AND a hilariously surreal half-E.T. // half-Friday the Thirteenth porno, were shown behind them. The sleazy videos went hand-in-hand with Tobacco's analogue synth concoctions. He later surprised fans even more by closing off with a new song.
Aside from touring, Tobacco has been keeping busy the past year with Demon Queen, a side project with collaborator Zackey Force Funk. The duo's debut album, Exorcise Tape, is set to arrive on August 6 via Tobacco's Rad Cult label.
More pictures from the 6/28 LSA show and a few older Demon Queen videos (NSFW) are below...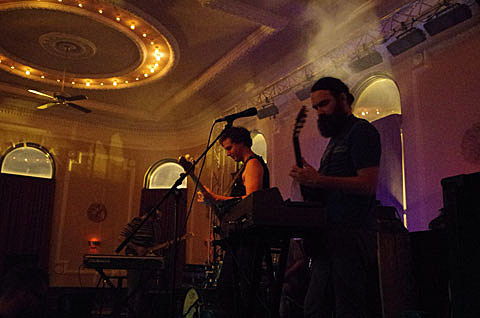 Demon Queen - "Demon Practice" (Official Video)

Demon Queen - "El Camino 2"

Demon Queen - "Lamborghini Meltdown"