Touche Amore playing Beat Kitchen in November, Ganglians play there much sooner.
DOWNLOAD: Ganglians - Jungle (MP3)
Touche Lamore @ House of Vans (more by BBG)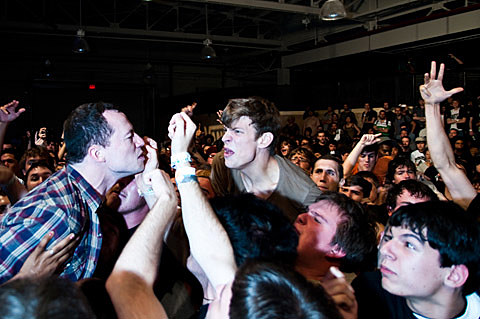 BrooklynVegan just exclusively announced a massive Touche Amore tour that will keep the California screamo/post-hardcore band on the road all of November and some of September and December too. If you look through those dates you'll see a Wednesday, November 23rd Chicago show at Beat Kitchen with Pianos Become Teeth and Seahaven. Tickets go on sale Friday, 9/9, at 10am.
Speaking of Beat Kitchen and Friday, that's where and when Calfornia band Ganglians play in support of their new album Still Living which was released via Lefse on 8/23. An MP3 from that LP can be downloaded for free above. Previous Ganglians releases have seen the light of the day via Woodsist, Captured Tracks, and Souterrain Transmission. Stephen Paul Smoker and Soft Speaker are also on the Chicago bill.
Ganglians also play a 5PM in-store at Permanent Records the same day. Watch a live Ganglians "Terroreyes.tv" session below...

--