Trash Talk have a new video and tour, playing Subterranean
Trash Talk @ 285 Kent in Brooklyn (more by Mighty Beardo)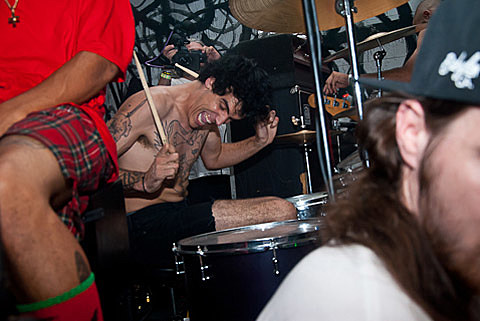 As mentioned, Trash Talk are set to release their new album, 119, on October 9 via Odd Future Records. The LA hardcore outfit have just shared a new video for the album track "F.E.B.N" (Forward Ever Backwards Never), which was directed by Tyler, the Creator. The very slightly-NSFW clip-- it includes a bare-assed graffiti artist-- is just a minute and a half long, and you can check it out at the bottom of this post.
In conjunction with their new video, Trash Talk have also announced some 2012 tour dates. That tour begins in early-September and will visit Chicago on September 16 for a show at Subterranean. Tickets for that show are not on sale yet, but check TicketWeb for updates.
All Trash Talk dates and their new video for "F.E.B.N" are below...

----
Trash Talk - "F.E.B.N"

Trash Talk -- 2012 Tour Dates
09-06 Raleigh, NC - Hopscotch Festival @ Lincoln Theatre
09-16 Chicago, IL - Subterranean
09-18 Columbia, MO - Mojos
09-19 Lawrence, KS - Jackpot
09-22 Denver, CO - Marquis Theatre
09-25 Vancouver, British Columbia - Venue
09-26 Portland, OR - Branx
09-28 Santa Cruz, CA - The 418 Project
09-29 Ventura, CA - Zoey's
09-30 Los Angeles, CA - Odd Future Camp Flog Gnaw Carnival @ Club Nokia LA Live