Twilight Sad, Port St. Willow, & Magical Beautiful played Beat Kitchen (pics, review, setlist)
Twilight sad at Beat Kitchen on 02.28.2015

After a recent November stop at Empty Bottle, Glasgow shoegaze greats The Twilight Sad returned to Chicago, though this time to the Beat Kitchen, a much smaller venue. The show was sold out, and in the Beat Kitchen's tiny walls, it was definitely felt. First opener, Magical Beautiful, a local act, had an eclectic sound, combining elements of indie rock, synth pop, and psychedelic rock. Featuring driving drums, spacey guitars, and melodic synth leads, they brought to mind Grizzly Bear, New Order, or Black Moth Super Rainbow.
Following their set, Port St. Willow (of NYC) took the stage, apparently their first show in Chicago ever. The band formed as a solo project of frontman Nick Principe, putting out music since 2010, though they played this show as a trio, with a drummer and keyboardist/trombonist filling out the lineup. The band's expert mix of ambient clean guitars, prolific jazz drumming, atmospheric piano and synth work, and angelic falsetto vocals gave the whole set an otherworldly feel. Their set primarily consisted of tracks from 2012's Holiday, as well as others both new and old.
After many extended and gorgeous compositions, and a very positive reaction from an otherwise apathetic crowd, it was finally time for the main event. The Twilight Sad opened their set with the first two songs on their newest record, 2014's Nobody Wants To Be Here and Nobody Wants To Leave, "There's a Girl in the Corner" and "Last January". Singer James Graham's stage presence was, as usual, highly energetic and passionate. He effortlessly hit every note. Following these two, Graham dedicated their next song to a friend of the band that was about to propose to his girlfriend (sources say she said yes). They then proceeded to play what is arguably their biggest song, from their debut record Fourteen Autumns & Fifteen Winters, "That Summer at Home I Became the Invisible Boy".
Andy MacFarlane's massive wall-of-sound guitars were in full form, as were drummer Mark Devine's pounding drums. The contributions of their touring bassist and keyboardist throughout the rest of the set were of particular note, with the former also playing bass synth and baritone guitar, and the latter conjuring up lush soundscapes and various sequenced electronic beats.
The rest of the set consisted primarily of songs from Nobody Wants... , as well as two from their previous record No One Can Ever Know ("Alphabet" and "Nil"), the sole track from Forget the Night Ahead ("I Became a Prostitute"), their masterpiece EP track "The Wrong Car", and a perfect pair of Fourteen Autumns... tracks to end the set ("Cold Days From the Birdhouse" and "And She Would Darken the Memory"). The band consistently thanked the crowd, stating Chicago always has genuinely been their favorite place to play in the US, and assuring us they would be back soon. Chicago can only hope.
More pictures, video and the setlist from the show, below...

--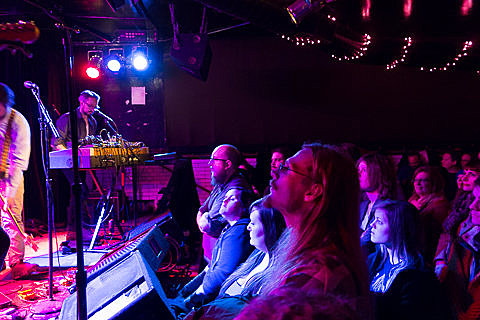 Twilight Sad --2/28 Beat Kitchen Setlist
There's A Girl In The Corner
Last January
That Summer, at Home I Had Become the Invisible Boy
Drown So I Can Watch
I Became a Prostitute
It Never Was the Same
In Nowheres
Alphabet
Nobody Wants to Be Here and Nobody Wants to Leave
I Could Give You All That You Don't Want
Nil
Cold Days From the Birdhouse
The Wrong Car
And She Would Darken the Memory