Twin Shadow, Diamond Rings played Lincoln Hall (pics, setlist)
In front of Lincoln Hall (on Sunday night, 10/2), just seven minutes before Twin Shadow was slated to take the stage, a line filled with big hair, leather jackets, and clunky boots waited to still purchase tickets.
Once inside, I began to make my way to a visible point in the crowd on the second level. The main floor was swimming with folks waiting in anticipation. It was apparent that tour opener Diamond Rings had done an adequate job of pumping the crowd full of adrenaline and anticipation. Unfortunately, having missed his set, I checked with some friends who had come out earlier, and my suspicion was confirmed. It was clearly my loss for not having gotten out of work sooner to catch it.
The lights dimmed, house music lowered, and Twin Shadow took the stage, quietly picking up their instruments and launching into an alternative version of "Castles In The Snow." This was smoothly segued into "Shooting Holes." The room lit up with neon green and splashes of hot pink as the disco ball was intermittently turned on. A dance party erupted in the first couple of rows on the main floor.
George Lewis Jr., the mind behind Twin Shadow, was adorned in a perfectly weathered, studded leather jacket with his hair slicked back under a tilted hat. The aesthetics of the show made me feel as though I was in some weird version of the 80s, where everything was modern but splashed in vintage. His new track, "On The Heart" brought to mind Don Henley's "The Boys Of Summer."
The highlight of the night for me, was coming full circle to "Castles In The Snow." The crowd had clearly been hoping for a return to this, with a tease in the beginning of the set. As the second to last song before the encore, the story arc was complete, and Twin Shadow had told it well. Their throwback to the 80s made it sound like a much cooler decade than most folks will tell you it was, and I dug that and so did the packed venue full of fans dancing along.
A set of pictures from the show continue on below..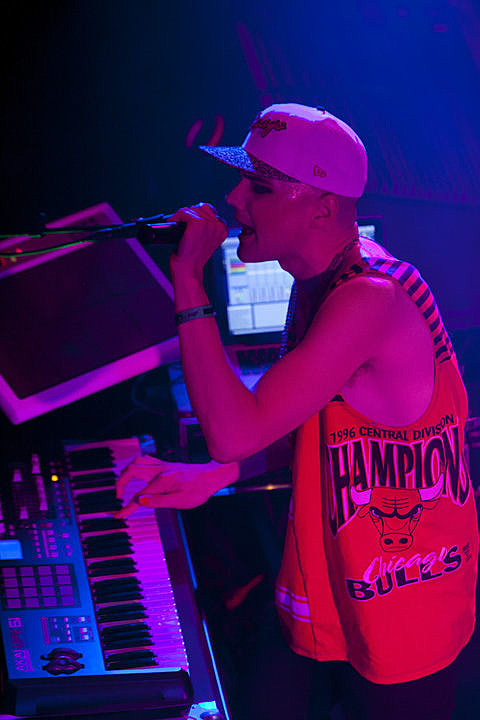 --
Twin Shadow - Lincoln Hall 10/2 Setlist:
Castles Alt. Version
Shooting Holes
Tyrant Destroyed
When We're Dancing
I Can't Wait
Yellow Balloon
CHANGES (Circus Is Gone?)
At My Heels
On The Heart
Slow
Castles In The Snow
Forget
•••••••••••••••••••••••••••••••••••••••
Tether Beat
For Now
--