Ty Segall played two shows at the Empty Bottle —————— (early show pics, late show review)
Ty Segall at the Empty Bottle on 2.09.2013 (Early Show)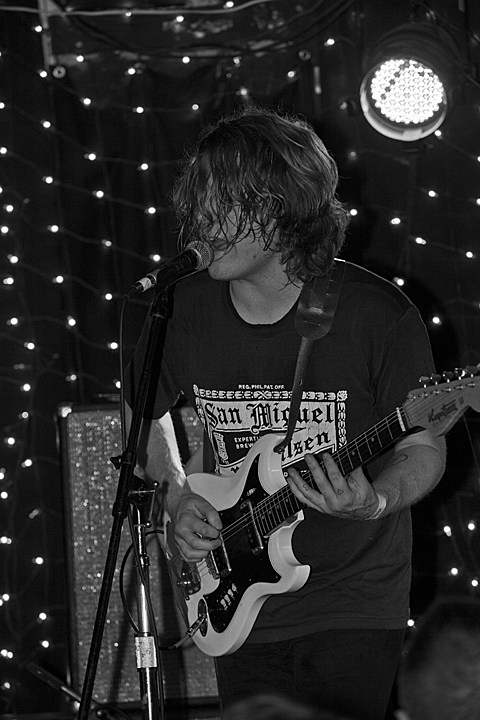 When was the last time you looked up from your cheap canned beer or pending photo upload to Instagram-- lag times are dreadful aren't they-- and noticed the entire crowd was in motion around you? Now that hesitant head nods and subconscious foot taps are the peak of what rock n' roll bands can hope for as far as audience participation, Ty Segall managed to unravel the crowd's anxieties and pretentions, and had the entire lower floor space of the Empty Bottle on Saturday night (2/9) knocking into each other with fervent youthful energy.
By the time Segall and his band moseyed on stage around 1:00AM at Saturday's late show, the second of a double-header, swaths of humid body heat had enveloped the sold-out crowd and the Bottle had positioned security personnel at either end of the stage to prevent a repeat of Ex-Cult's opening set. That set prominently featured that one wasted guy who takes too many turns crowd surfing, and in his overzealous approach, never even pulls it off well. If you're a garage fan that's not yet familiar with Memphis' Ex-Cult, get real and spin their self-titled: a nervy, jittery, dissonant punk record produced by Segall himself.
From the first distorted crunches of "Thank God For Sinners," a predictable yet absolutely appropriate and awesome opener, Segall and his band pounded through most of 2012's Twins and selections from Slaughterhouse without pause for tuning or banter. Ty seemed to prefer playing as many tunes as possible to extended soloing, but of course when the time was right he machine-gunned noisy shreds from his trademark surf green '66 Fender Mustang. Despite huge volumes of sound daunting for any audio engineer, Segall's live vocals were fairly consistent with his recordings-- albeit more screaming-- and the backup harmonies somehow pierced right through the haze.
Ty and co. closed their set by maxing out the jerky rhythm of "Love Fuzz" into amplified oblivion, with all guitars pressed against cabs for optimum feedback. They encored with an impromptu take on "American Woman," which certainly matched, if not exceeded, the quality of Lenny Kravitz's cover and a slightly more rehearsed version of Bad Company's "Feel Like Makin' Love," a song I enjoyed for the very first time Saturday. The whole shebang was a sweaty mess, and that's a good thing.
A set of pictures from Ty's 2/9 early show at the Bottle are in this post. More below...