What's going on Wednesday?
Mike Scheidt of Yob @ Bell House in May (BKLYN) (more by Fred Pessaro // BBG)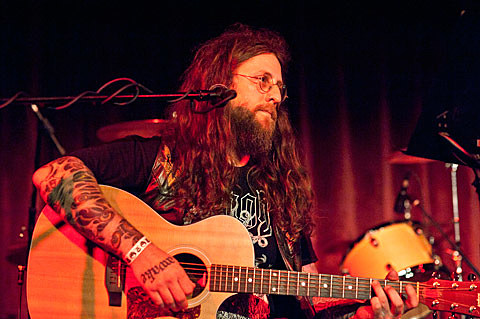 today in Chicago
* Saul Williams, Dessa @ Schubas
* Yob, Norska, Beak @ Beat Kitchen
* Dblbbq, Johnny Young @ The Burlington
* The Obelisk, Ament, En Masse @ Ultra Lounge
* Breton, The Big Sleep, Knife Fight @ Empty Bottle
* California Wives, Santah, Deserters @ Lincoln Hall
* Caspian, Castevet, Ormen Lange @ Subterranean
* Hex Machine, Alma Negra, Backs @ Cobra Lounge
* Super Hairy, My Empty Phantom, Victor Villareal, The Winter Me @ Double Door
* Wornout, Narrow Mind, No Brainer, Future Cops, Minimum Wage Assassins @ the Albion House
Saul Williams brings his spoken word tour with Dessa through Chicago tonight for a performance at Schubas.
Victor Villareal plays the Double Door with Super Hairy, My Empty Phantom, and The Winter Me.
Buke & Gase have a new video for "Misshaping Introduction." Check it out below, and catch them at Schubas next weekend with Deerhoof.
Follow @bvChicago on Twitter, "Like" us on Facebook.
What else?

--
Buke & Gase - "Misshaping Introduction"

--