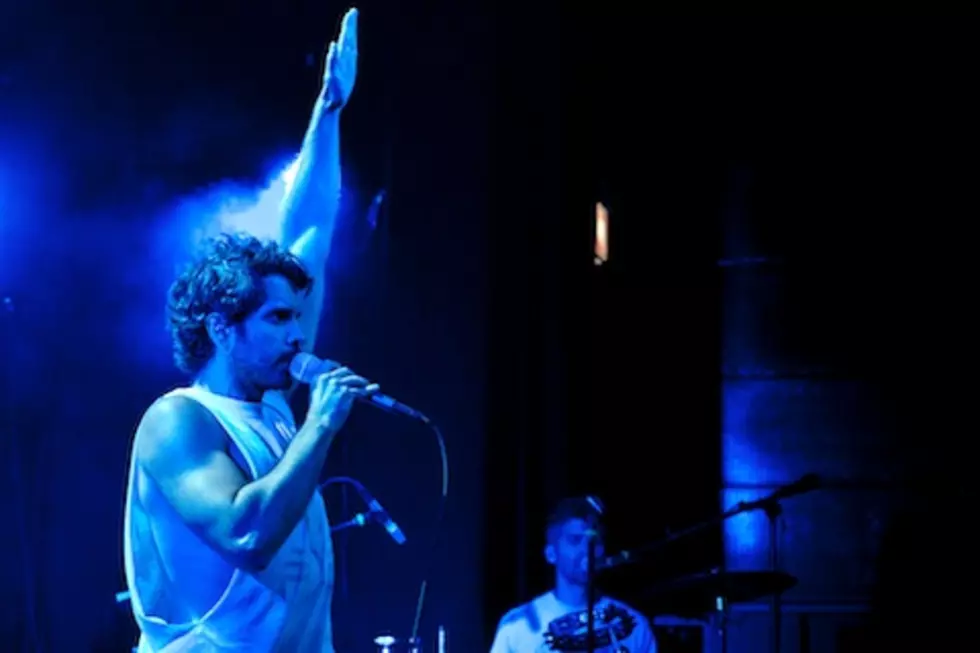 WHY? played Lincoln Hall; playing the venue again in October
WHY? at Lincoln Hall on 9.09.2012 (via)

WHY? are currently on the road in the US, and came through Chicago on Sunday (9/9) for a performance at Lincoln Hall. Were you there? How was it? If you missed them this weekend, or if you'd just like to see them again, they've now added an October 19 performance at the venue to their tour schedule. Support will come from Naytronix and The Black Swans (who play the Empty Bottle tonight (9/11)), and tickets go on sale this Friday (9/14) at noon CST.
As mentioned, WHY? welcomed their new EP, Sod in the Seed, in August. They also have a new LP, titled Mumps, etc., due out on October 8. You can download the album track "Jonathan's Hope" at the top of this post and/or stream it below.
All WHY? tour dates and a stream of Mumps, etc.'s lead single are below...

----
WHY? - "Jonathan's Hope"

WHY? -- 2012 Tour Dates
Sep 11 The Haunt - Ithaca, NY
Sep 12 Middle East - Cambridge, MA
Sep 13 Music Hall of Williamsburg - Brooklyn, NY
Sep 14 Union Transfer - Philadelphia, PA
Sep 15 Motorco Music Hall - Durham, NC
Sep 16 The Grey Eagle - Asheville, NC
Sep 17 The EARL - Atlanta, GA
Sep 18 Mercy Lounge - Nashville, TN
Oct 03 Tonhalle - Düsseldorf, Germany
Oct 05 New Fall Festival - Dusseldorf, Germany
Oct 06 L'abordage - Évreux, France
Oct 07 Maroquinerie - Paris, France
Oct 08 Old Market - Hove, United Kingdom
Oct 09 Electric Ballroom - London, United Kingdom
Oct 10 Central Methodist Hall - Manchester, United Kingdom
Oct 11 Fleece - Bristol, United Kingdom
Oct 12 SWG3 - Glasgow, United Kingdom
Oct 13 Bullingdon, The - Oxford, United Kingdom
Oct 15 Volksbühne - Berlin, Germany
Oct 18 Black Box Theatre - Cincinnati, OH
Oct 19 Lincoln Hall - Chicago, IL
Oct 20 Altar - Pittsburgh, PA
Oct 23 Newcomb Ballroom - Charlottesville, VA
Oct 24 Canal Club - Richmond, VA
Oct 25 40 Watt Club - Athens, GA
Oct 26 Jack Rabbits - Jacksonville, FL
Oct 27 The Social - Orlando, FL
Oct 28 Crowbar - Tampa, FL
Oct 29 Club Down Under - Tallahassee, FL
Oct 30 Alabama Music Box - Mobile, AL
Oct 31 Spanish Moon - Baton Rouge, LA
Nov 01 Walter's - Houston, TX
Nov 02 Sons of Hermann Hall - Dallas, TX
Nov 03 FunFunFun Festival - Austin, TX
Nov 04 ACM@UCO Lab - Oklahoma City, OK
Nov 05 The Luminary Center for the Arts - St Louis, MO
Nov 09 Meet Factory - Prague, Czech Republic
Nov 10 Centraltheater - Leipzig, Germany
Nov 11 Zentralcafé im K4 - Nuremberg, Germany
Nov 12 Club Manufaktur - Schorndorf, Germany
Nov 13 Feierwerk e.V. - Munich, Germany
Nov 14 Nkc Park - Zagreb, Croatia
Nov 15 Spazio 211 - Turin, Italy
Nov 16 Karemaski - Arezzo, Italy
Nov 17 Locomotiv club - Bologna, Italy
Nov 18 Twiggy - Varese, Italy
Nov 19 MENZA PRI KORITU - Ljubljana, Slovenia
Nov 20 Arena - Wien, Austria
Nov 21 Palace St. - Gallen, Switzerland
Nov 22 Schlachthof Wiesbaden - Wiesbaden, Germany
Nov 23 Le NOUMATROUFF / Mulhouse - Mulhouse, France
Nov 24 L'Epicerie Moderne - Feyzin, France
Nov 25 L'Amperage - Grenoble, France
Nov 26 Rockstore - Montpellier, France
Nov 27 Connexion Cafe - Toulouse, France
Nov 28 I.Boat - Bordeaux, France
Nov 29 Stereolux - Nantes, France
Nov 30 Le Guess Who - Utrecht, Netherlands
Dec 01 Autumn Falls @ AB - Brussels, Belgium
Dec 02 Exhaus - Trier, Germany
Dec 03 Gebauede 9 - Cologne, Germany
Dec 04 Uebel & Gefährlich - Hamburg, Germany
Dec 06 Barbie Blub - Tel Aviv, Israel