Yann Tiersen & Felix played Metro (pics/review/setlist)
photos by Grant MacAllister, words by Zach Pollack
On Friday night (May 4), French composer Yann Tiersen brought his five-piece band through Chicago for a performance at Metro. UK trio Felix, who acted as main support on a week's worth of North American dates, opened the Chicago show.
Felix welcomed their great sophomore LP, Oh Holy Molar, on April 23 via Chicago's Kranky Records. Their minimalist chamber-pop translated extremely well live, showcasing the intricacies of frontwoman Lucinda Chua's songwriting. A certain level of honesty can be found within her lyrics, which sadly is not something I come across very often these days. Oh Holy Molar doesn't dance around its themes of failed romance, anger, and self-doubt, Chua instead opts for a tell-all approach. This is evident in the album's lead single "Oh Thee 73," which opens with the somewhat fitting lyrics of "Friday night is the worst night to be alive. Would you help me get out of the firing line?" Drummer Neil Turpin and guitarist Chris Summerlin, who are also members of Yann's band, help to fill out Felix's sound with their respective and understated parts. Turpin is best noticed on the upbeat "Don't Look Back (It's Too Sad)," and Summerlin's guitar is the driving force in "Pretty Girls." The band played most if not all of Oh Holy Molar and even slipped in a cover of The B-52s' "Dirty Back Road" before exiting the stage.
After a brief set changeover, Yann and co. began their headlining performance. He's been touring North American in support of his seventh studio album, Skyline, which actually came out in the UK in 2011 but only recently saw its stateside release. The virtuoso multi-instrumentalist and his band, who are just as talented, jumped around from soft folk to otherworldly synth-pop. All members contributed vocals to each song, yielding thick harmonies. Yann stuck to keyboards for much of their set but traded it for a guitar and violin at points. The most exciting song they played on Friday night was Skyline's opening track "Another Shore," which begins as quiet post-rock and transitions to a powerful, synth-laden hook. After a 17-song set the band briefly exited the stage, returning to play a four song encore.
A full set of pictures from Friday night's show (including one of the setlist), below...

----
Felix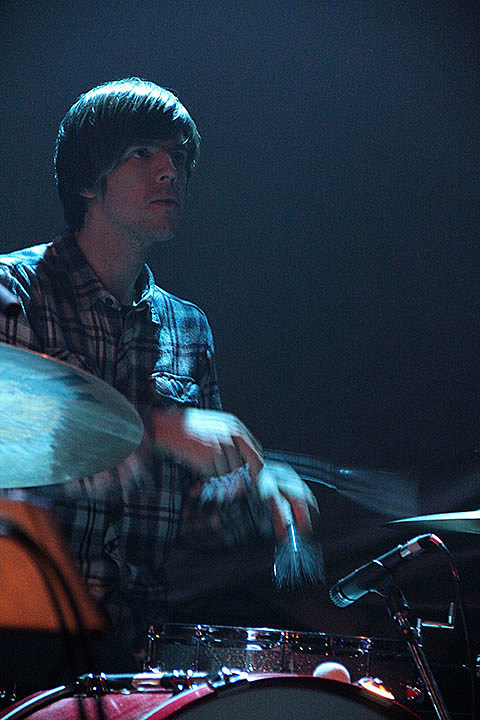 Yann Tiersen